Not a fan of "Toy Story 3"? The internet suggests you keep that to yourself.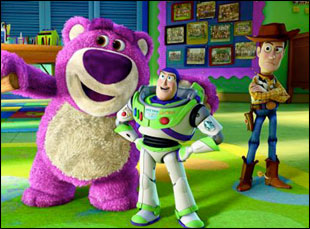 Posted by Matt Singer on
Audiences and critics love "Toy Story 3" so much that it's become news when anyone dares not to. Friday, movie review aggregator Rotten Tomatoes logged their first two negative "Toy Story 3" reviews, and movie sites went into attack mode against the two evildoers who'd dare to besmirch the beautiful utopia of 145 other critics in perfect agreement.
Writer Cole Smithey called the film "wrongheaded and overtly mature for young audiences." He probably meant overly mature, but whatever; he's got a point that the film is a "hard G" and probably too intense for very small children.
And, not surprisingly, but not so surprisingly that some folks were actively anticipating it, New York Press film critic Armond White dismissed "Toy Story 3" as well. "The 'Toy Story' franchise isn't for children and adults," he wrote in his inimitable style. "It's for non-thinking children and adults."
Responses quickly poured in from venues ranging from the Wall Street Journal to FilmDrunk.com. Slashfilm posted a lamentation entitled "'Toy Story 3' Finally Gets Negative Review, Becomes the Second Best Reviewed Movie of All Time," as if that designation a) could be accurately measured and b) would mean anything even if it could actually be ascertained.
What's perhaps the most strident response came from Josh Tyler at Cinema Blend in his article, "Meet the Only Two People Who Hate 'Toy Story 3.'" The amount of outrage some people can summon over a movie they had no part in creating always blows my mind; did these folks watch "Toy Story 3" or make it?
Maybe some of these writers do feel some kind of ownership. If the film earned an arbitrary title like "The Best Reviewed Movie of All Time," and they were a member of the group that got it there, then they could claim some small part of its success as their own. Certainly, for some, enjoying the film is not enough. Sharing that enjoyment with others isn't satisfying enough either: nothing less than complete and total consensus will do. In his piece, Tyler didn't just disagree with White, he declared White's opinion invalid:
It's impossible for an opinion to be wrong. Most of the time. Sometimes though, something is so self-evident that it moves beyond opinion. When everyone in the world gets together and agrees that yes, this is really good, that one lone voice standing in the corner and shouting the opposite isn't just a different opinion, it's a wrong opinion… An island of wrong. Hundreds of film critics have proclaimed their love for 'Toy Story' over the course of three movies and the two baldies who hate it can't really tell us why. Most of the time film is subjective. This time it's not.
Let's ignore the fact that Tyler's "one lone voice standing in the corner" is already two different negative reviews. Does an opinion gather weight — and even objective truth — as more and more people believe it? For thousands of years, thousands of people believed the earth was flat. Did the fact that an overwhelming majority agreed upon it make them any more correct? Certainly, it can be comforting to have one's opinion confirmed by the opinions of others. But someone's agreement or disagreement doesn't make that opinion any better or any worse than any other.
White gets a kick out of diminishing internet critics. Most of his complaints are uninformed and out of line, but whenever White stirs sites' ire with his unpopular beliefs, the over-the-top reactions of his targets validate his stereotypes. Ironically, while web commenters are trying to figure out ways to get White and Smithey's reviews thrown off Rotten Tomatoes, the traffic they're driving to White's New York Press review in particular will only ensure he'll be around to bash the things they love for a long time to come.
White and Smithey's opinions do nothing to change the fact that "Toy Story 3" has a profound effect on the vast majority of people who see it. Nor does my belief that "Toy Story 3" is easily the weakest in the series change the fact that Tyler thinks it's perfect (feel free to denounce me after our review podcast goes up on Monday — update: here it is). Instead of grabbing our pitchforks and torches, let's leave the comfort of objectivity to people who cover sports. The opportunity for individual interpretation is what makes film special. Let's embrace that. Let's choose discourse over dismissal. Film can't — and shouldn't — be boiled down to a box score.
[Photos: "Toy Story 3," Pixar/Disney, 2010]