Catching Up With Neil Jordan and Colin Farrell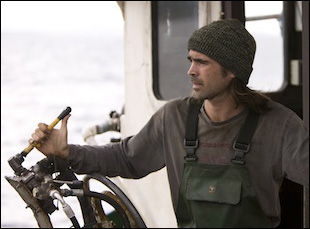 Posted by Matt Singer on
Neil Jordan's the kind of director who's tried just about everything: dramas and comedies, fantasies and histories, big studio productions and tiny independents. That willingness to experiment and versatility with various genres and tones come in handy for Jordan's new film "Ondine," which combines aspects of children's fairy tales, crime stories and an Irish strain of kitchen sink realism into one unique combination.
Colin Farrell stars as Syracuse, a down-on-his-luck fisherman who pulls up his net one day and finds a beautiful woman (Alicja Bachleda) inside. There's no reasonable explanation how the woman, who doesn't remember who she is or how she got there, wound up drowning off the Irish coast, but Syracuse's daughter Annie (Alison Barry) thinks she's a "selkie," a mermaid-ish half-seal, half-human creature of folklore. The mystery surrounding the woman — who they name Ondine — intertwines with the carefully observed details of Syracuse's life, his struggle to maintain his sobriety and his relationship with Annie's mother, and his obvious (and understandable) attraction to the beautiful Ondine (in real life, Farrell and Bachleda now have a son together, Henry).
Farrell, Jordan, and Bachleda attended "Ondine"'s U.S. premiere at the 2010 Tribeca Film Festival, where I spoke with them about the challenge of shooting on a working fishing boat and the unusual stew of ingredients that went into creating the film.