The viral rebirth of "Mortal Kombat."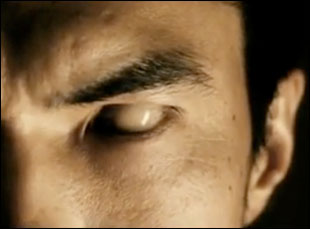 Posted by Matt Singer on
With "Prince of Persia: The Sands of Time" leaving many theaters deserted, and in light of the abysmal box office performance of the last big-screen video game adaptation, 2009's "Street Fighter: The Legend of Chun-Li," now may not be the ideal time to try get people excited about a video game movie.
But someone posting on YouTube under the handle "MortalKombatRebirth" did when they uploaded a new spin on the Midway classic starring "Black Dynamite"'s Michael Jai White and "Star Trek: Voyager"'s Jeri Ryan on Monday:
As first examined by Kotaku, and later confirmed by Latino Review and Ryan's Twitter feed, the well-designed short, simply titled "Mortal Kombat," is a high-end movie pitch created by director Kevin Tancharoen to "sell his vision" of a more mature rendition of the property to Warner Bros., who own the rights to the project.
"More mature rendition" may not be the best choice of words, since it implies a base level of maturity in previous "Mortal Kombat" films. First released in 1992, "Mortal Kombat" became one of the most popular arcade games of all time thanks, in part, to its infamously excessively violence. A fighting game involving supernaturally powered martial artists with arsenals of deadly "finishing moves" including decapitations and unanesthetized spinal cord surgery, "Mortal Kombat" became a hugely lucrative franchise. There were two movie adaptations, "Mortal Kombat" in 1995 and "Mortal Kombat: Annihilation" in 1997, which looked like this:
Obviously there's a disconnect between Tancharoen's ideas and those of his cinematic predecessors. Interestingly, the terrible earlier movies are truer to the vision (if not the scope, or the quality) of the games. Anyone who knows "Mortal Kombat" knows it wasn't high art. It was a game about silly looking men and women performing over-the-top moves (like my beloved Kung Lao, who beheads people with his razor blade-edged hat — how can he even grab it to throw it without cutting himself? — because he's a pacifist).
They were most certainly not about gravely voiced cops trying to intimidate gravely voiced dudes with no pupils. Whether Tancharoen ever gets to make his version of "Mortal Kombat," you have to at least give him credit for doing something different with the material because, let's face it, doing the same thing with the material is what gave us "Mortal Kombat: Annihilation" in the first place. And because I can't get enough of that movie, here's another hilarious clip:

Give credit too to "Mortal Kombat" fanboys for not succumbing to the clichéd response of rejecting this thing simply because it isn't faithful to the source material. Instead, the internet response has been strongly positive. Maybe the many dreadful video game adaptations have finally convinced people that innovation is not something to be afraid of. If Tancharoen rides his clip's good buzz to a gig helming this movie, his ballsy courting of online fan culture would be pretty innovative as well.
[Photo: "Mortal Kombat Rebirth," Kevin Tancharoen, 2010]