Was it misogyny that made so many critics hate "Sex and the City 2"?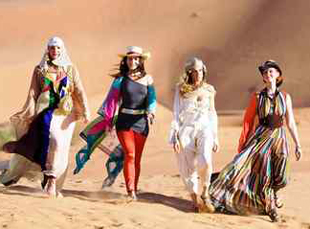 Posted by Vadim Rizov on
It was inevitable that someone would get around to accusing "Sex and the City 2" detractors of not-so-latent misogyny. The task finally fell to the Guardian's Bidisha, who lays out the case.
Her basics: reviews were fixated on the women's looks, failed to reserve similar vitriol for "a convicted rapist such as Roman Polanski" (which doesn't really seem germane), and — finally — don't deal with the many other films that are "all standard ignorant, cliched, macho, brutal, brainless, gung-ho, numb-knuckle, totally male-dominated," and that "feature large clubs of self-involved obsessive stupid men and their multiple male nemeses and cronies and one or two completely outnumbered women in demeaning, underscripted roles." So now what?
What's being kicked around here is the question of whether women deserve movies as stupid, condescending, thoughtless and reductive as the ones targeted at men, and whether we should celebrate that for its own sake. "Sex and the City 2" is certainly a more graphic (well, more everything) beast than your average romcom: it's seemingly calculated to push everyone's buttons. And if your best argument for it is that well it's not worse than the fare produced for money, you're really gasping for rhetorical air.
That question, though, seems all wrong. I mean, sure: women deserve to be exploited as much as men. (Well, not "deserve," but work with me.) And certainly there's an argument to be made that such sneering, breaking-a-butterfly-on-a-wheel reviews have an ugly undercurrent to them that can't just be explained as the results of a recession and anger at the gap between the critic's lifestyle and the one being depicted on-screen.
On the other hand, let's assume — just for a second — that, by and large, most male critics are not raging misogynists. It's very easy to say, as the New York Times' Manohla Dargis does, that the main culprit here is an underlying hatred that fixates suspiciously on superficial matters of appearance.
But there's something else here, something that's weirder and sadder. Plastic surgery, defying age, asserting yourself through sheer anti-aging force of will (and pure obnoxiousness): these are manifestations of the oft-voiced American idea that death is optional.
Misogyny may well have something to do with it, but there's something else that makes people uneasy, and I think it's that — the tension between how unhealthy (literally) the society is and the way the movie absolutely refuses to engage with that, not just economically but physically.
[Photos: "Sex and the City 2," Warner Bros, 2010]