Mike Nichols, master of laughing though his heart is breaking.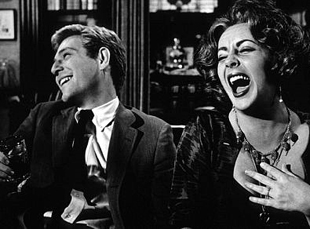 Posted by Vadim Rizov on
As his Wikipedia entry states, Mike Nichols "is one of only twelve people to have won an EGOT, all the major American entertainment awards: an Emmy, Grammy, Oscar, and Tony Award," alongside such show-business immortals as Whoopi Goldberg and Audrey Hepburn.
To that unwieldy acronym (one that spawned a side story on "30 Rock") Nichols tomorrow will add the AFI Life Achievement Award, joining an impressive list of recipients that all legitimately qualify as "legends": John Ford, Gene Kelly, Jack Lemmon, Scorsese. Nichols will arguably be the most second most colorless showbiz force to receive one (after Robert Wise, the editor and director whose best work was studiously impersonal and well-crafted).
It's not that Nichols doesn't have a clear personality. As part of the Nichols & May team, he displayed a subversive, progressive feel for comedy that initially laos manifested itself in his work as a director. "Who's Afraid of Virginia Woolf?" and "The Graduate" are puckish movies about unfunny subjects — alcoholism, disintegrating marriages and post-graduate malaise — and if "Woolf" is overdetermined, "The Graduate" remains ridiculously fresh, its jokes not at all expected. You can get a contact high from watching it.
But Nichols' subsequent work has betrayed little individual stamp, though I have some ideas about how they work. His films tend to be set in America and about Americans; Nichols isn't a Milos Forman-level satirist and observer, but he seems to see things in a heightened way.
"Silkwood" and "Working Girl" are immensely sympathetic, immersive looks at shitty American workplaces. For all its charm, "Working Girl" is only secondarily a romance; the key scene is when Joan Cusack accuses Melanie Griffith of trying to use work to get away from her horrible Staten Island life and friends — and she's right, that's exactly what Griffith is doing and pulls off by film's end.
But Nichols is above all a supremely technical director. "Catch-22" opens with a scene of 16 planes taking off at the same time and climbing into formation in an uninterrupted take, a feat David Lean wouldn't have disdained. Though his background is in comedy, Nichols' comic work doesn't scan that way based on how it's shot or edited. "Charlie Wilson's War" is hilarious, but if you watched on mute you'd think it was a drama. (This cuts both ways: "Closer" is also hilarious, but Nichols insisted if you laughed you missed the point. He was wrong.)
Unlike his '60s and '70s cohorts, Nichols crashed and burned several times — "Catch-22" was a huge flop, "The Day of the Dolphin" and "The Fortune" not big hits, and he's never been as relevant or dominant as he was with "The Graduate" — but the somewhat colorless nature of his work obscures what a sharp and terrific director he can be when the material is good.
He's never better than his scripts, but that's a trick reserved for true masters. Nichols is something else: a bright technician whose fundamental curiosity about things can sometimes lead him to unexpectedly terrific work. A lifetime achievement award? Sure, why not.
[Photos: "Who's Afraid of Virginia Woolf?," Warner Bros., 1966; "Working Girl," 20th Century Fox, 1988; "Catch-22," Paramount, 1970]