Michael Bay, maker of movie white noise.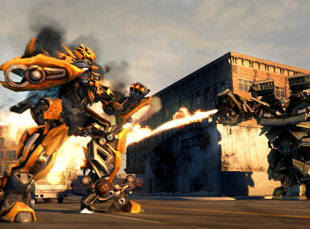 Posted by Vadim Rizov on
Because of his combination of critical hatred and outlandish commercial success, Michael Bay has become a default punchline stand-in for the worst thing ever. But who doesn't enjoy the absurdities of "The Rock," or the first hour of "Armageddon" (before they take of)?
Defending Bay requires making elaborate arguments, claiming he's an unsung genius (see Armond White's claim that he "has created the best canted angles — ever" and is a "real visionary") or Bay's own trick of smirking "I make movies for teenage boys. Oh, dear, what a crime."
The truth is, he's neither the cinematic antichrist (a position reserved for your true cynics and regular producers of garbage) nor a man without the ambitions he likes to disclaim. You don't make all that work for yourself for no reason.
But yesterday we learned two things about Michael Bay. The first came from a USA Today report from the "Transformers 3" set, where life without Megan Fox continues apace and grandiose talk of artistic ambition hangs in the air. Bay suggest that the plot (which will go into the US-USSR space race) "ties in what we know as history growing up as kids with what really happened." "Transformers," Cold War project? They're going to pump the subtext from 25 years ago back in. Who would you trust to play with historical mythology more than Michael Bay?
The good people at Filmdrunk have collated reports of a "Transformers 2" screening in Atlanta that ended in rioting and madness, as the combination of a free public event and free Chick-Fil-A ended in disorder. It's edited in a very clever way to make the movie look at fault rather than what was obviously poor planning, but at the bottom comes the kicker, courtesy of writer Vince Mancini:
I had to see 'Transformers 2' in theaters for a radio interview I did, and the scene was a lot like this, minus the hate crimes and chicken fights. The three teenagers in front of me were texting and talking on their phones the entire movie, two guys behind me shouted at the screen the whole time, and a Guatemalan woman to my right translated every word of dialog to her husband sitting next to her at a normal, non-whisper speaking voice… This is not an isolated incident. These are Michael Bay's people.
Personally, I don't think Bay is evil, nor do I think his movies exclusively attract the uncivil. But his movies are loud, and they're designed to play out at exactly the same level throughout; there isn't any one moment that's more important than any other. Given this, it's important to assert yourself throughout.
When you hear him talking about "history," it's hard to know who he's kidding; his movies really are designed to be so loud you can do whatever you want through them. They can be the cinematic equivalent of white noise, but there has to be a middle ground for evaluating them. They're neither despicable nor visionary; they're just…there, on screen, whether you take notice of them or not.
[Photos: "Transformers: Revenge of the Fallen," Paramount, 2009; "Armaggedon," Touchstone, 1998]