"Iron Man 2″'s redeemed burnouts and other summer meta-casting.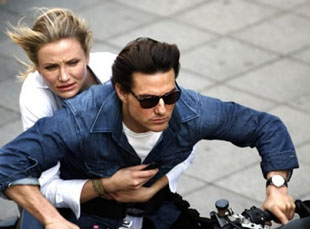 Posted by Vadim Rizov on
On June 23, after nine long years of anticipation, Cameron Diaz and Tom Cruise will finally be reunited in "Knight and Day."
The last time they paired up was a very memorable incident indeed. The occasion was Cameron Crowe's loopy-but-endearing "Vanilla Sky," in which Cruise played a rich guy with a shit-eating grin and Diaz played a psychotic bitch who got to utter the immortal lines "I swallowed your cum! That means something!"
Their relationship, alas, wasn't destined to work out — as generally happens whenever Penelope Cruz decides to become the third part of the love triangle — but now they have a second chance at love, this time with Cruise as the crazy one. It's going to be a blast.
Meta-casting — the art of reuniting stars with past on-screen histories, thereby letting the audience make some connotative connections, or otherwise playing off past imagery — is something that doesn't happen often enough. There are, still, some amusing examples from this summer.
The implicit subtext of "Iron Man 2″'s Downey-Rourke face-off, as has been widely noted, is former burnouts redeemed and going mano-a-mano. Next Friday begins the limited release of "Cyrus," in which Jonah Hill torments John C. Reilly — payback, perhaps, for "Walk Hard," in which young Reilly kills his brother accidentally, only to have him show back up in the form of Hill as ghost. (Given the way they sort of resemble each other, I expect this to keep happening for years.)
Having made out in "The Runaways," Dakota Fanning and Kristen Stewart will get back to proper money-making business in the latest "Twilight" movie, which makes the Joan Jett/Cherie Currie biopic the rough equivalent of slash fanfiction.
Still to come as well are two especially piquant pairings of the rom com variety. In "He's Just Not That Into You," Justin Long found true love (with Ginnifer Goodwin) and Drew Barrymore didn't (with Kevin Connolly). In "Going The Distance," can they find true love… together? Bonus layer of context: the two have resumed their real life romantic relationship.
Similar questions confront us when thinking about Jennifer Aniston and Jason Bateman in "The Switch." In "The Break-Up," Bateman was Vaughn's friend, watching the disintegrating relationship from the sidelines; now, after all these years, he can make his move! This will also be the second time a pregnancy has been the inciting incident for Bateman, after "Juno." It's like when Katherine Heigl gets pregnant in "Killers" and it ultimately seals an otherwise unstable relationship!
[Photos: "Knight and Day," 20th Century Fox, 2010; "The Switch," Miramax, 2010]