Five Simple Rules for Mermaid Movies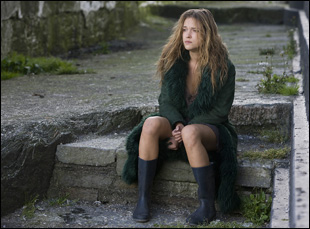 Posted by Matt Singer on
Technically, Ondine — the title character of Neil Jordan's new film — isn't a mermaid. When she winds up in fisherman Colin Farrell's net in the middle of the ocean, his daughter (Alison Barry) becomes convinced that she might be a selkie, a mythological seal-human hybrid of European folklore that the father and daughter take in as one of their own.
But, after all, a rose by any other name would smell just as sweet, and a mermaid by any other name would smell just as briny. Whatever you want to call its subject, "Ondine" certainly follows many of the rules of mermaid movies established by its cinematic predecessors. To wit, here are some rules to live by when your average Joe pulls out a mermaid from the sea (oh, and beware landlubbers, some SPOILERS be near):
1) They're about testing the possibility of impossible love.
Most mermaid movies, "Ondine" included, are about love in the face of great obstacles. They wind up working nicely as metaphors for any kind of relationship between people of different societal groups. As a mermaid and a human, Ariel (voiced by Jodi Benson) and Eric (voiced by Christopher Daniel Barnes) from Disney's "The Little Mermaid" (1989) face the same sorts of problems that hound many interracial or interfaith couples: disapproving parents, societal guilt and pressure.
In the sequel "The Little Mermaid II: Return to the Sea" (2000), the always contested question of how to raise their children. As if that weren't enough, they've also got to contend with storms, shipwrecks, evil witches and Faustian bargains on their way to their happy ending. Not an easy road to walk (or sea to swim) for anyone, but it's pretty typical of the enormous odds usually stacked against mermaid/human lovers on screen.
2) Mermaids don't work well on deadlines.
Mermaids come with so many rules. They're like the Mogwai of the sea: handle with extreme care or suffer the consequences. Primary among these rules is the fact that they can stay on land only for so long before, depending on the story, they die, or must return to the sea, or are stuck living here permanently. Madison (Daryl Hannah) from "Splash" (1984), for example, has only six days with Tom Hanks' Allen before she has to head back to watery climes.
Though a lot of movie mermaids are benevolent, a few have violent tendencies, which are commonly synched to lunar cycles: Dennis Hopper suspects his girlfriend (Linda Lawson) in "Night Tide" (1961) might be a mermaid driven to kill under the full moon. So I guess they're sort of the Mogwai werewolves of the sea (Right now, someone is Hollywood is trademarking the name "Mogwai Werewolves of the Sea." Tagline: Next Christmas, come sea what happens if you don't feed them after midnight!)
3) They ain't feminists, either.
In "A Little Mermaid," Ariel is a curious 16-year-old mermaid, with dreams of exploring the world of humans. But once she's laid her eyes on Prince Eric, she forgets all of that and focuses entirely on him; she gives up her beautiful singing voice and risks an eternity of damnation all to be with a guy she's barely met and never even talked to. And, sadly, that's pretty much how it goes for movie mermaids, many of whom represent a slightly unsavory portrait of man's ideal woman: obedient, voluptuous, willing, naked, and silent. Is this really what men want? According to mermaid movies, yes. For one particularly demented example, watch "Mr. Peabody and the Mermaid" from 1948, in which a married William Powell cheats on his wife Polly (Irene Hervey) with a mermaid (Ann Blyth) he catches fishing in the Caribbean.
Mr. Peabody's mermaid, whom he names Lenore, stands in stark contrast to the missus. Unlike the wise-talking, independent Mrs. Peabody, who angers her husband by talking to other men on the beach in a slinky bathing suit, Lenore waits patiently, faithfully and mutely for his visits to her home in the Peabody pond. Even though she can't speak and they have nothing in common — Peabody's not even a good swimmer — he claims to have fallen in love with her because "there's much to be said for a woman, even an imperfect one, who lives, breathes, and exists only for the man she loves." Somewhere, Laura Mulvey is crying.