Hey, someone's gotta come to the defense of M. Night Shyamalan.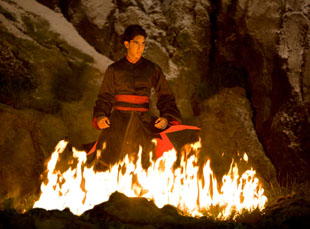 Posted by Vadim Rizov on
Before we all had Lindsay Lohan to beat up on, there was M. Night Shyamalan, Hollywood's very own prodigal son. Master of twist endings and cursed with less modesty about his directing gifts than even Quentin Tarantino, Shyamalan's fall from grace was swift and almost karmically vengeful. At least — if you buy the overall narrative that after "The Sixth Sense," every movie he made was a case of increasingly diminishing returns and financial failure, culminating in the rock-bottom nadir of "The Happening."
The truth, as always, is more interesting and complicated.
Shyamalan's complacency about himself has been a factor from the start. Talking up "Unbreakable" to Time in 2000, he noted his long-term career goals as being "just say my name, and it represents a body of work." On the cusp of the disastrous release of "Lady in the Water," he'd upped his shit-talking game: "If you're not betting on me, then nobody should get money. I've made profit a mathematical certainty. I'm the safest bet you got."
He was, at that point, correct — but no one likes to hear that kind of thing even if it's true, and it certainly didn't help when "Lady" came more-or-less packaged with "The Man Who Heard Voices," an inadvertently hubristic account of the making of the film, with Shyamalan coming across as the fragile visionary willing to pitch a fit if an executive delayed reading his script to take her son to a birthday party.
This was on top of the three hour-long (with commercials) Sci-Fi mockumentary for "The Village" — which was admittedly hilarious, but only to the 1% of the audience that realized that Nathaniel Kahn was basically parodying the indulgences of his last film, "My Architect." To everyone else, it just looked like one stupid joke about how Shyamalan really does see dead people.
Tarantino does this kind of thing all the time too — but he's got the movies to back it up, so most people are able to separate his work from his persona. And it's not like Shyamalan intentionally set out to be dubbed "the next Spielberg" — it's a thing that happened, and then fell apart with a speed gratifying to anyone who'd found his work insufferable.
There was reason for that: with "The Sixth Sense" and (especially) "Unbreakable," Shyamalan made some of the slowest genre movies on record. "Unbreakable" creeps like a Taiwanese art film. That's barely an exaggeration — if you're into the style, it's hypnotic, but otherwise you'd be hard-pressed to wonder why the subject matter deserved quite that much gravity.
Shyamalan then entered what might loosely be deemed his Lars von Trier phase, in which he made didactic allegories (given that the blank-faced Bryce Dallas Howard starred in "The Village" right before replacing Nicole Kidman in "Manderlay," the link is less tenuous than it seems). "Signs" is a cool, effective thriller that morphs into a stupid religious tract at the last second, while "The Village" is like the recently released "Dogtooth" without the intellectual bona-fides.
Both are, despite their flaws, interesting — "The Village" certainly has one of the ballsier premises you'll find in a recent summer film, even if it's not as provocative as it'd like to believe and features the unappetizing sight of Adrien Brody playing developmentally disabled — but they ultimately don't work because Shyamalan subsumes what he's good at (narrative, pacing, framing) for a Higher Concept.
Having (presumably) learned from these errors, Shyamalan graced the world with the incredibly goofy "Lady in the Water." This is a movie in which Paul Giamatti has to get a milk mustache and curl up in the fetal position on a couch so that an old Korean woman can tell him a mythological fable that makes no sense whatsoever.
For consumers of the consciously absurd (and no movie this messed-up yet carefully filmed could be an accident), it's a treasure trove. The public and critics hated it, although most reviews focused on the hubris of Shyamalan casting himself as a prophetic story-teller and/or the fact that Bob Balaban's film critic characters gets gleefully slaughtered (even though he gets all the best lines).
That's a decade's worth of work that, for all its flaws, is strenuously idiosyncratic, something not to be despised in this summer of woe. (And even if "The Happening" is horrible, it actually turned a profit worldwide — Shyamalan's only lost money once during his career in the majors.) Expensive perversities are rare (though the "Toy Story 3" reviews suggest we've got at least two this summer, along with "Inception").
Whatever his flaws, Shyamalan may be complacent, but he's not lazy. Even if "The Last Airbender"'s just a bad sell-out (early word is, to put it mildly, devastating), he's earned this one. If all his formal skills haven't completely atrophied, he still has something to offer, even it's mostly just having one of the strangest blockbuster minds around.
[Photos: "The Last Airbender," Paramount, 2010; "Unbreakable," Buena Vista, 2000; "Lady In The Water," Warner Bros., 2006]