When it comes to action movies, we could use less heart.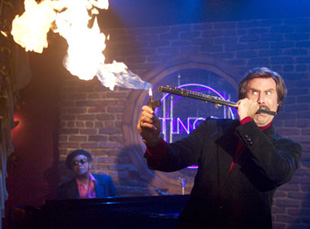 Posted by Vadim Rizov on
In an interview discussing his many, many unrealized projects with the AV Club last week, Triumph The Comic Insult Dog creator Robert Smigel moaned about studio demands to always know "Where's the heart?" in his archly goofy, unrelentingly satirical scenarios.
"I refused to write movies with plodding, labored, forced moments that stood out," he noted. "Now I think comedies have gotten a lot better," citing the relentless absurdism of "Anchorman" as an example.
Nowadays, studios, in the absence of demanding comedies with heart, seem to have injected this regrettable sogginess into action films, drawing attention away from more vital matters like which expendable bad guy is about to get his ass kicked. I'm thinking, most recently, of the regrettable Jessica Biel in "The A-Team," whose appearance drew unprecedented howls of derision each and every time she appeared on-screen at my screening. Rarely have I seen a mostly easily pleased crowd so clearly Not Having It.
Ms. Biel is not the greatest of thespians, but the protests had more to do with the fact that every time she's on screen, Bradley Cooper's required to tone down his sub-Ryan Reynolds act in favor of acting like an actual vulnerable human being. Specious nonsense! No one came to see that, not even the girlfriends in the audience.
Of course, the obligatory romantic sub-plot has always been with us, but it used to be more pro forma, the ritualistic female to be attained by whatever bad-ass was center screen. They certainly weren't about to get all weepy about it.
Gushiness is a fairly recent development, something for which we can probably blame Tobey Maguire (who managed to make pining after Kirsten Dunst look realistic and heartfelt) and the widely noted aughts trend of the morally conflicted, emo superhero. This recent overdevelopment of the blockbuster heart muscle seems to work only when someone wildly over-qualified has been cast in the female part, who can underplay the role (like Gwyneth Paltrow in "Iron Man"), because these parts are always poorly written. (Which might account for the popularity of "Taken": a Hard Man with no time for women yanks us back to the reactionary essence of the action movie.)
I was reminded of all this while watching the fine Steven Seagal film "Marked For Death," currently available on Netflix Instant. This is the 1990 follow-up to "Hard To Kill," which briefly took time out for Kelly LeBrock to put on her most low-cut dress and sleep with our ponytailed hero. The poster, attendantly, has her to Seagal's left, clutching his arm and looking all "THIS IS MY MAN."
The poster for "Marked For Death," in contrast, gives us two Seagals — one in silhouette with a gun, and a full face glowering humorlessly, an accurate summary of what happens in the movie. Seagal shares all of three scenes with Joanna Pacula, who attempts to seduce him (flattering him by telling him it's rare to meet a man like him who isn't married, gay or "trying to find himself"), but he simply gets the information he needs and is on his way. Pacula is never seen again; after the final shooting, the movie's simply over.
This is not, perhaps, the most socially responsible attitude to take, but it is, nonetheless, preferable to the deep-breathing and worrying of, say, Jessica Biel. The sogginess of most action romances, in fact, is nothing more than a way to pad the running time without actually providing real chemistry or banter. Here's wishing they would either make those roles less token and cynical and more fleshed-out (unlikely), or drop them entirely.
The absurdities of the post-"Anchorman"/"Adult Swim" comedy have gotten rid of the garbage that is the tiresome here's-a-halfassed-concession-for-the-female-demo. Might it be too much to ask for a similar regression in the action genre? If you can't do something well, why do it at all?
[Photos: "Anchorman," DreamWorks Distribution, 2004; "The A-Team," 20th Century Fox, 2010; "Marked For Death," 20th Century Fox, 1990]