Leelee Sobieski's Blissful Adulthood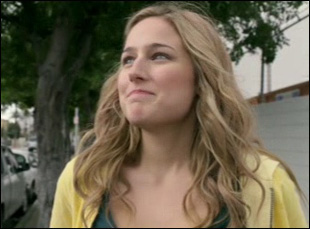 Posted by Aaron Hillis on
It's tempting to still think of Leelee Sobieski as that underage ingénue from "Deep Impact," "Eyes Wide Shut," "The Glass House" and her Emmy-nominated role in the TV miniseries "Joan of Arc," but according to the fair-skinned beauty (who turns 27 this month and, as of December, is a new mother), the opposite is true: "People think that I'm older than I am because I've been working since I was 11. They think, 'Oh, she's been around forever. She's in her mid-30s.' But I'm not."
In the new indie comedy "Finding Bliss," written and directed by Julie Davis ("Amy's Orgasm"), Sobieski stars as Jody, a naïve film school grad who fights against her conservative impulses when she takes an editing gig at an adult film company, specifically to take advantage of their filmmaking equipment after hours. Surrounded by silicone-enhanced toys and talent (plus a full-frontal Jamie Kennedy), Judy is forced to confront her suppressed sexual desires, and even finds an unorthodox romantic partner. I spoke with Sobieski by phone about having old-fashioned values, the first time she ever saw porn, and the bodily remnants of a dead filmmaker she keeps in a box.
Have you ever felt as prudish in your values as Jody?
I'm a little bit strange, because I have two different sides to my personality. There's a side that's like my father, and a side like my mother. My mom sees the world in a very moral, "this is good and this is bad" way. My father is French and from a different generation. So I like to have the chair pulled out for me if I'm at a romantic dinner, or the door opened, these certain old-fashioned, male-female roles. At the same time, I like to be an equal, but sometimes I can be looked upon as old-fashioned.
Speaking of gender roles, "Finding Bliss" was written and directed by a woman, which is interesting since the adult film market is predominantly male. What was your initial take on Julie Davis's project?
For some reason, I've worked with a large number of female directors, which is great, because there really aren't that many. I hope to be a director myself one day. Julie is fun and excited by all the naughty stuff, but then she's a mother, a wife, and very traditional in the home and family. Her son comes first before everything.
On the other hand, she had all these wild jobs before, and is totally fascinated with this subject. When I read the script — years ago — it was a fresh subject. It was hard to shoot because our budget was so low. We were shooting in Spokane, WA, which made it difficult to capture the right energy, especially visually.
Do you remember the first time you ever saw a porno?
Yes. I was 15, and I was filming "Joan of Arc." [laughs] I was at the Hotel InterContinental in Prague, and there was a glitch in the computer system, so for a month, there was free porn on four channels. It was really confusing to me, especially after coming home from working such long days. There weren't that many channels in English — at a certain time, there were cartoons in English on the highest channel. The channel right above that happened to be all the porn, so I would constantly — perhaps accidentally, perhaps not — stumble upon it. It was very jarring in the context of what I working on.
I don't think it really affected me. I was old enough. Children find it because kids are using the Internet so young now, and so much better and faster than adults. I wonder what happens when they see it before they're even aware of a kiss, when that's the first image they see.
Yet even though it's more accessible, we still live in a puritanical society in which talking about sex in public is risqué or even taboo.
I always felt that talking is good. If you talk about a taboo subject, it doesn't become as exciting. I went to a school in New York City that [taught] sexual education in third grade. That was too young, I think. Maybe it worked for me because I was innocent for a long time, longer than any of my peers. I would pride myself on being one of the boys and talking about women in a macho way. I thought it was cool to analyze women with the dudes. I never included myself in that, or any of my girl friends.
One of the reasons why I felt comfortable talking about [sex] and yet stayed quite prudish for a long time was because I was able to discuss anything with my parents. If I wanted to go to a party at a friend's house, my dad and mom would say, "You can go, but why would you want to — what's this kid going to do with his life? Do you really care if these kids think you're cool or not? You can go, but it's silly." I would think, well, I don't want to be thought of this way. I want to make my parents proud and not go to this stupid party.