"L.A. Streetfighters": a major midnight movie discovery.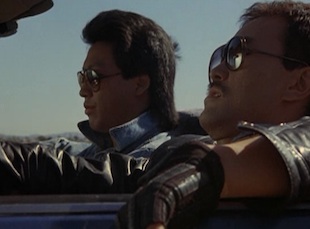 Posted by Matt Singer on
Reviewed at the 2010 New York Asian Film Festival.
In the 1990s, "Beverly Hills, 90210" set the standard for actors too old to play high school students, with a cast that included Luke Perry (25-years-old playing 16 at the start of the series) and Gabrielle Carteris (16 going on 30). But they all look like fetuses compared to Jun Chong, the hilariously old geezer who plays a high school student named Young in "L.A. Streetfighters."
According to the website Video Junkie, Chong was 41 years old when he played, ahem, Young, a whippersnapper with an impossibly demanding — and impossibly drunk — mom. "I can't be the person my mother wants me to be!" Young protests. "She expects too much!" Yes, she expected her son who looks like her older brother to graduate from high school by the age of 40. The tyrant! Parents just don't understand.
"L.A. Streetfighters" seems blissfully unaware that it is completely absurd, and that is the very quality that elevates it to the level of great bad art. It's not simply that it is poorly made — most low-budget martial arts films are poorly made — it's that "L.A. Streetfighters" is strangely made in ways that go way beyond just casting a guy 25 years too old for his part.
What to make of the scene where Young walks in on a friend showering in a room full of potted plants and give him a banana? What to make of the scene where a hitman on the trail of some stolen money takes time out from beating a dojo full of men to put on a karate demonstration on a punching bag? What to make of the scene shot in slow motion featuring dubbed voices recorded at normal speed? Watching this movie is like seeing the world through the eyes of a delusional psychotic who's high on peyote.
The narrative of the film resembles a Jenga puzzle: identical scenes neatly stacked one atop the other with no attention to which piece goes where. Once a piece has served its purpose, it's removed from the pile and placed back on the top so it can be used again. Young, his new buddy Tony (Phil Ree) and some of the other street fighters wander into a grocery store where someone is being harassed by a gang and everyone gets into a fight. And so on.
Eventually — because this is apparently how Fairfax High School students earn a little extra pocket change — they start working as hired muscle at clubs. But when the group works security for a drug deal, Young impulsively steals a briefcase full of money, and becomes the target of a citywide manhunt. His excuse? "The money's dirty! I'll use it for a good cause!" I guess Young wasn't out of school getting his driver's license (or maybe his AARP membership card) on the day they taught the lesson about how two wrongs don't make a right.
Kudos to the NYAFF programmers for finding and championing this honest-to-so-bad-it's-goodness gem. This fascinatingly weird movie is a perfect choice to play their Midnights sidebar. It also would make a strong choice at any high school's Scared Straight program. Be careful, kids. Stay in school too long and you'll wind up in a movie as bad as this.
"L.A. Streetfighters" plays Saturday, June 26 at midnight at IFC Center in New York City. If you don't live in the area, "L.A. Streetfighters" is currently available on Netflix and Netflix Watch Instantly.
[Photos: "L.A. Streetfighters," Action Brothers Productions, 1985]