Kubrick and Scorsese, not as violent as their most famous films might indicate.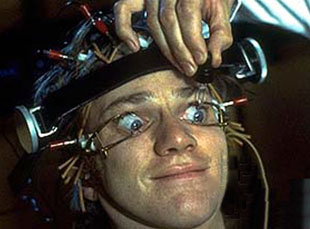 Posted by Vadim Rizov on
When someone says that Stanley Kubrick and Martin Scorsese are his or her two favorite directors, it doesn't mean that much. Both are responsible for films of cold, hard, almost universally valued quality — they're almost unassailable cinematic institutions (there's always going to be someone around to insist a director is overrated). They're also dorm-room staples and two of the few directors still identifiable by many people by last name alone. It's a rare case of critical and popular love getting married.
Here's a video mash-up of the work of the two godhead directors to get your week started with a bang. Kudos to "Leandro Copperfield," whose "Kubrick vs. Scorsese" (guess what it's about) has been picking up blog steam. (It's mildly NSFW — there are, predictably, a lot of bloodshots and a little swearing):
To Copperfield's infinite credit, the video includes bits of every single Kubrick feature (including the never-officially-released "Fear and Desire" and early boxing short "Day of the Fight"). He even gets in pieces of 1955's "Killer's Kiss," a treasure trove of unintentional surrealism. This is not the work of someone who's only dug "A Clockwork Orange," "The Shining" and "Full Metal Jacket." Scorsese, too, is awarded his full due: pre-"Mean Streets" material is eschewed, and there's certainly no Michael Jackson's "Bad" in there, but you're basically getting the scope of the catalog.
Conventional wisdom pegs Kubrick as a master technician who was far chillier than anyone in his audience, while Scorsese is a visceral stylist whose propensity for the lurid connects beyond his personal obsessions (even as his relative indifference towards continuity editing can drive technical dweebs off the wall).
A mash-up like this proposes equality. Even as it's making visual analogies (the "2001" monolith is no less movable, it turns out, than Daniel Day-Lewis in "Gangs of New York"), what it's really privileging are the flashiest shots, the ones that survive best when cut to durational shreds.
Often, they're very violent: if you'd never actually seen any of the Kubrick movies in question, you might conclude they're just as violent as Scorsese's (and you'd also be forced to conclude Scorsese's work is almost exclusively violent, which is only what his fair-weather fans wish for).
That suggests something about the casual fandom surrounding these milestone directors. Plenty of people "like" Kubrick; very few of them are going to sit down and watch "Killer's Kiss," partly because it's obscure and partly because it's a somewhat inept (if fascinating) mash-up of noir, proto-surrealism and post-sync sound. Likewise, most of those "Goodfellas" fans somehow failed to show up for "The Age of Innocence" (or "Kundun"!).
The most popular films of both directors are the ones that go for full violent overload (except for "2001," which is too spectacularly anomalous a challenge to ignore). And that doesn't say anything about the scope of their work, which is broader than most would give them credit for. It just tells us that, even among the masters, people prefer flash and violence.
[Photos: "A Clockwork Orange," Warner Bros., 1971; "Killer's Kiss," MGM/UA Home Entertainment, 1955; "The Age of Innocence," Columbia, 1993]