Spending Memorial Day with "Kindergarten Cop."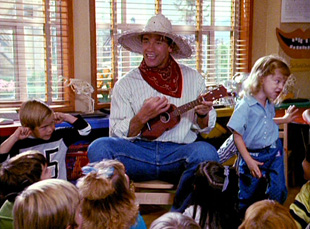 Posted by Vadim Rizov on
It was not my intention to spend Memorial Day rewatching "Kindergarten Cop," but somehow it happened. And as it turns out, "Kindergarten Cop" has more to offer 2010 in the political realm than you'd expect. As TV Guide's perceptive review notes, "Schwarzenegger tames his kindergarten class by having them do calisthenics, thereby shamelessly using his role to promote his offscreen position as chairman of the President's Council on Physical Fitness — and therefore the political ambitions he constantly denies having."
That was written in 1990, and — with Schwarzenneger as governor of California — it no longer scans as paranoia or needless cynicism. Indeed, "Kindergarten Cop" — for unexpected reasons — is more timely than ever now. It, like "Iron Man 2," is the story of a self-reliant man saving America from itself through questionable means, which is only the first of its many strangely apropos resonances.
Arnold, playing a tough cop forced to go undercover as a kindergarten teacher, takes his unruly charges and whips them into shape — not just with those calisthenic workouts, but with a brand of collectivism that's both vaguely fascist (just a trick of his accent) and reminiscent of "Metropolis," as everyone reaches a happier future in harmony, led by a benevolent tyrant.
When Arnold yells "THERE IS NO BATHROOM," it sounds like something out of Ayn Rand. And, as it happens, the majority of "Kindergarten Cop" is set in Astoria, Oregon, but Arnold flies there via (a massively disorienting, cut-in shot of) Air Alaska.
Given the meteoric rise of Sarah Palin, this makes absolute retroactive sense: a charismatic pragmatist comes out of small-town America to reform silly liberal children (up to and including the moment he's basically cheered on for beating the crap out of a child-/wife-beater) and give their parents something to chew on. "Kindergarten Cop" doesn't predict Schwarzenneger's political rise: it predicts the Tea Party.
Happy past Memorial Day, America. There is no bathroom:
[Photos: "Kindergarten Cop," Universal, 1990]