Can "The Killer Inside Me" Ever Be Satisfyingly Brought to Screen?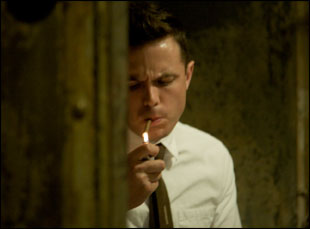 Posted by Bruce Bennett on
If ever there were ever a book destined to both invite and elude a satisfactory film adaptation indefinitely, Jim Thompson's 1952 pulp magnum opus "The Killer Inside Me" is it.
Much like Walker Percy's 1961 novel "The Moviegoer," the spare prose, snapshot precise detail and intimate first person narration of "Killer" project a film directly into the reader's head more lucid and haunting than anything likely arrive on a movie screen via creative committee.
And, at least as far as Hollywood is concerned, the lead characters in both books (a genial psychopath deputy sheriff in Thompson's, and an emotionally unreachable Korean War veteran in Percy's) aren't exactly the kinds of seize the moment protagonists typically tasked with driving three acts of complications and changes to a satisfying climax that leaves an audience with happily shaking heads when the lights come up.
To my knowledge "The Moviegoer" remains in development limbo as an option contract, some script drafts and memos in a production company file cabinet somewhere in Culver City. Thompsons' book, on the other hand, was previously adapted to film in 1976. This first attempt proved to be a particularly star-crossed production during which the original director was replaced by former Budd Boetticher screenwriter turned maker of comedy Westerns Burt Kennedy.
Kennedy's efforts yielded a film notable primarily for squandering the considerable off kilter charisma of actress Susan Tyrell, paired for the second time with Stacey Keach her co-star from John Huston's essential 1972 skid row prize fighting romance, "Fat City."
According to author Joe Polito's meticulously researched biography of Thompson — who along with two dozen novels co-wrote screenplays for Stanley Kubrick's "The Killing" and "Paths of Glory" — was still ruing the finished result (and the small amount of option money he accepted for it) on his deathbed when he passed away in 1977.
Whatever faults "24 Hour Party People" and "Welcome to Sarajevo" director Michael Winterbottom's new adaptation of "The Killer Inside Me" may have, the contempt Kennedy's shrug of a picture had for its source is not one of them. Instead of opting for a modern dress updating like the 1976 film, Winterbottom and co-writer John Curran have sent "The Killer Inside Me" back to within a half decade or so (judging by the dates of the film's period music cues) of the novel's post-war southwestern milieu.
There Lou Ford (Casey Affleck), a clean-cut deputy sheriff in an oil boomtown called Central City, good-naturedly accepts an assignment to visit a suspected prostitute named Joyce (Jessica Alba) on the outskirts of town her in order to encourage her to move on.
But Lou's gift for avoiding antagonism (he proudly admits to one law-abiding citizen that despite the badge he doesn't carry a gun) is turned off, and something very dark within both him and Joyce is turned on after a few slaps in anger lead to some full contact expressions of consensual outré sexuality in Joyce's boudoir.
While Lou and Joyce carry on clandestinely, Lou's fiancé Amy (Kate Hudson) is running out of patience waiting to for Lou to pull the trigger, so to speak, on their wedding plans. Joyce, meanwhile, is the object of a financially convenient but otherwise unwelcome fascination by Elmer Conway (Jay R. Ferguson), son of the ruthless town construction magnate Chester Conway (Ned Beatty doing his best work in decades) who may or may not have been responsible for the death of Lou's…
Well, if you're familiar with Thompson's book or with the work of almost any writing graduate of the Black Mask magazine school of crime literature that produced Dashiell Hammett, James M. Cain, Cornell Woolrich and the like, you already know what's in store. What's unusual about the novel has more to do with character than with plot, anyway.