Judd Apatow drinks PBR as summer burns.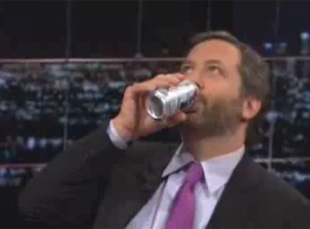 Posted by Vadim Rizov on
Friday night, the obnoxious circle-of-easy-liberal-punchlines that is HBO's "Real Time with Bill Maher" briefly perked up as Judd Apatow dropped by to remind people that "Get Him To The Greek" is an actual movie that's coming out and people should see it.
First he drank one of the PBRs Maher had gotten as part of a joke about life in Sarah Palin's Alaska: "I'm a drug addict but I draw the line at that shit," Maher cracked, indicating he hasn't been to any shows in Brooklyn lately. They then discussed Apatow's infallibility (as if last year's twin financial disasters of "Year One" and "Funny People" had never happened) and Maher — a stand-up buddy of Apatow's from back in the day — ruefully admitted "now you've surpassed me."
Well, has he? It was the worst June box-office year in five years (and worse if you factor for inflation). Faced with a weekend in which there was no clear stand-out blockbuster — merely "Killers," "Greek," "Marmaduke" and "Splice" — the American people loudly asserted their indifference and stayed home. The much-touted return to multiplex movie-going as a response to economic tough times hit a leak.
"Greek" performed solidly but unremarkably; as for "Killers" (a movie so cheap and shoddy even its explosions are unconvincing), it was interesting to watch another Apatow associate (Katherine Heigl received a big boost from "Knocked Up," and she wastes more time on pregnancy tests here) succumb to failure. And yes, talking dogs and gene-spliced babies are still a reasonably tough sell. I suspect that a lot of movies get a boost when not-particularly-picky multiplex-goers, sold out of their intended film, settle for something else. This weekend, there was no movie that was even close to selling out, and the crush that benefits everyone never materialized.
But back to Apatow, the man allegedly better off than Maher. Apatow — who doesn't really make political statements but whose movies are, as has been widely noted, essentially culturally conservative — was drinking that beer Maher so disapproves of as they discussed drug use. "The point of most of the movies is 'you don't want to behave like this,'" Apatow said. "That doesn't come through," Maher responded, which is absolutely true; given the amount of time Apatow's characters spend getting funnier and funnier the more they ingest and abuse, the message isn't terribly clear.
Watching the two old friends and colleagues sit side by side, you couldn't at least help but breathe a sigh of relief that it was Apatow, not Maher, who blew up. Whatever his flaws, Apatow lacks Maher's noxious sense of clarity and moral absolutes. The two talked about how much they hung out and how Apatow emulated Maher when he was an up-and-coming comic, but over the years Maher has curdled into a dead-certain semi-libertarian pushing certain inflexible talking points. You get the sense Apatow, too, has a message he wants to push (such as "don't be a stupid pothead who can't handle adult life"), but he's much less certain what that might be or how to present it, which makes his movies much easier to watch even if you disagree with what they're about.
The most interesting thing about the movies he actually directs is how they're always pulled in two directions at once: "The 40 Year Old Virgin" is about sex jokes and mocking virgins but also about affirming monogamy, "Knocked Up" is allegedly in favor of marriage but Apatow's direction of (his wife!) Leslie Mann as a tensely married shrew undercuts his point. The ambivalence was pushed to the max in "Funny People" — a freakishly confessional film with seemingly no filter, with Apatow and co. trying to be honest about the negative problems of the obscenely wealthy — and Apatow's a better director for it.
Here's Apatow sharing a beer with Andrew Sullivan, the only other guy at the table drinking. Of course.
[Photos: "Real Time with Bill Maher," HBO, 2003-present; "Killers," Lionsgate, 2010; "Knocked Up," Universal, 2007]