Jonah Hill Steps Away from "Superbad"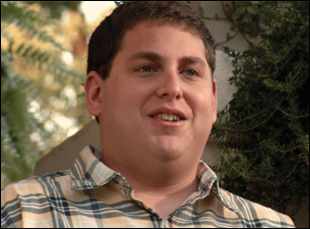 Posted by Aaron Hillis on
Comedic actor and up-and-coming screenwriter Jonah Hill has brightened every feature Judd Apatow has yet directed ("The 40-Year-Old Virgin," "Knocked Up," "Funny People"), and would like you to stop thinking he's the vulgar loudmouth he played in "Superbad." If anything, he thinks his recent gig as the hapless liaison to Russell Brand's rock star in "Get Him to the Greek" is probably the closest to himself he's ever played since, as Hill told me, "he's ambitious, good-intentioned and works hard." Let's give him that one, if only because he's starring in his second feature to be released this month.
Filmmaking brothers Jay and Mark Duplass ("The Puffy Chair," "Baghead") have given Hill his most dramatic role yet as the eponymous weirdo in "Cyrus," a smart indie blend of humor and heartbreak. John C. Reilly stars as a miserably divorced man who finally meets a very special lady (Marisa Tomei), only to discover her grown son (Hill) is a creepy, over-possessive product of too much parental coddling. At the press junket, where I was gifted a funny promotional T-shirt that I'll unfortunately never wear in public because it says "Seriously, Don't F**k My Mom," I sat down with Hill to discuss the music that influenced him on the "Cyrus" set, making his mother cry, and the fact that you already think his "21 Jump Street" remake will suck.
Not to draw such direct comparisons to Cyrus, but are you socially awkward in any way?
If you caught me on certain days, I would be totally different in that regard. My girlfriend always makes fun of me because I'll say, "I don't want to go to this party, it's going to be awkward," or I just want to hang out at home. Then she's like, "You end up closing down the party, the last person to leave, always talking to everybody." Then on different days, I really am uncomfortable in big social settings. I love watching movies and hanging out with loved ones. That's where my heart's at and where I usually have the most fun.
Have you ever felt spoiled by your parents, like Cyrus' mother does to him?
I don't think so. They were really supportive, hard on me when they had to be, and continue to be loving. My parents saw the movie at Sundance with my girlfriend and other family members, and I think it's their favorite movie I've ever been in. For me, the hardest scene to watch and my favorite I've ever done in any movie is in "Cyrus," when Marisa Tomei and I are on the bed, she's admitting she made mistakes in raising me, and I'm admitting for the first time — being honest and not manipulative — that my fear is she's replacing me with this other person. My heart breaks for both of those characters.
My mom was crying after the movie. It broke my heart because I always looked at it from Cyrus's point of view — obviously, because I was playing that character — thinking, "It's so sad, this guy's losing the one person who cares about him and who he cares about." My mom was touched by it, because she was like, "It made me think about raising three kids, and times I felt I was making mistakes." You do your best and there's no guidebook to it. It must be hard to think, "Maybe I messed up in certain ways."
Do you want to raise children?
Definitely. That's one of the great joys of life, especially watching Mark and Jay become fathers. Watching them deal with their kids is really inspiring. John Reilly has a great family, as do a lot of people I've worked with — Judd [Apatow], Nick Stoller.
The reason you work so hard is you love making movies, but the reason you work harder is because you want to have a family and want to be able to buy your kids clothes or food and make sure they're able to live, you know?
If you're not anything like your "Superbad" role, as you mentioned, has the real Jonah Hill ever come out in any of your characters?
I don't think anyone knows me that well if they're just going on my movies. In my job, unfortunately, I don't think you can control what people think about you. I'm really proud of my family, friends and girlfriend, and I'm very insular in that way of hanging with them. I'm not out on the Hollywood scene or going to nightclubs and stuff like that. I'm just about making good movies, and I'm prideful of what you said because it's great that all people know about me are the movies I put out. That's good for an actor. You don't want people to know too much because it's that much harder to convince them that you're somebody else. When people who think I'm that "Superbad" guy see this movie, it's going to be shocking because it's so different.