Jonah Hill's weight, an unexpected inspiration for think pieces.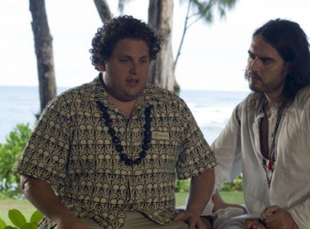 Posted by Vadim Rizov on
What are the ethics of enabling unhealthy behavior if it enriches your financial bottom line? It's a question that was raised, in passing, by Lil Wayne doc "The Carter," and it comes to mind when reading pieces about — of all things — Jonah Hill being fat. Let's not mince words here: in the three years since "Superbad," Hill (along with Kevin James) has been using his girth as a prop, as the key to his persona. To be Hill is to wave one's arms, roll with the punches and navigate the world in a different way from most screen stars.
So what does it mean when you get a weird think piece like Leah Rozen's over at The Wrap, which tries to locate Hill in a lineage of portly comic stars? Rozen suggests he's neither "the wild and crazy guy" nor any other "fat man default modes," but "an average, even sweet fellow, often a little insecure, trying to get by." "In more recent decades, stars who traded on their size for laughs include John Belushi, John Candy and Chris Farley — all of whom, sadly, died well before their time," she notes.
Similarly, what does it mean to read a rebuttal-ish post from Jeff Wells at Hollywood Elsewhere complaining that Hill's size gets in the way of his performance? (Gets in the way. Heh.) "Hill is running down a Las Vegas hotel hallway with Russell Brand and it's hard not to think 'Jesus, he's gonna need oxygen if he doesn't slow down,'" Wells muses.
What's missing from both these pieces is the acknowledgment that Hill (and the more famous Kevin James) embody the average multiplex-dweller better than all of our toned, groomed and thin stars. Jeffrey Wells finds it odd that Hill's weight is "never once commented on" in "Get Him To The Greek," but there's nothing weird about that at all. That's the reality: when you have a country where a third of people are obese or overweight, who would notice?
The true surprise is that there aren't more actors like this: people claim to want glitz and glamor, but casting an obese guy is like a small validation of self. Hill's weight isn't a prop or tool: it's just the way it is.
That means grouping him in with all those other portly comedians is pointless for any other than health reasons — reviewing him can start to feel like an excuse to chide, berate and hope for his improved health, the critic as doctor. And who asked for that?
[Photos: "Get Him to the Greek," Universal, 2010; "Grown Ups," Sony, 2010]