Jezebels at the movies: Bette Davis, Ann-Margret and a dog voiced by Fergie.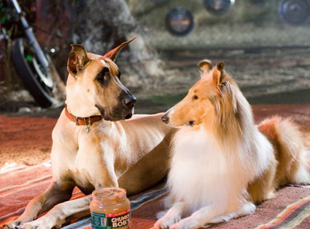 Posted by Vadim Rizov on
"Marmaduke," currently pulling an 8% freshness rating at Rotten Tomatoes, still isn't managing to inspire the critical ire that followed "Sex and the City 2."
But while reading Michelle Orange's review at Movieline ("it's not the kids or the Marmaduke fans (?) I worry about — neither is known for their discriminating taste — it's the parents"), I became aware of something I'd never suspected, something of terrible importance: there's a dog named "Jezebel" in this movie, and she's voiced by Fergie.
As Orange notes, Jezebel is "a backlit Collie," which we know is no good; Marmaduke should really be gunning for Mazie, as voiced by Emma Stone (who's a better choice in real life as well).
Are the six-year-olds who are the target audience for "Marmaduke" so up on their Biblical allusions they'd grasp why this dog is named Jezebel? The original Jezebel was eventually eaten by dogs. Is giving the name to a dog some kind of weird joke?
"Jezebel" as a character name is historically loaded in several directions. The best-known manifestation was probably Bette Davis in 1938's "Jezebel" — though the movie didn't have the gall to name her character that (she was just plain old Julie Marsden). Paulette Goddard actually was Jezebel in in 1953's "Sins of Jezebel," which kicks off with a freakishly dull, nearly four-minute recap of the Book of Genesis' highlights, but eventually gets around to Goddard vamping it up in true Biblical bad girl fashion:
Then there's Ann-Margret in "The Cheap Detective" ("Jezebel Dezire. Accent on desire."):
There's also a sexploitation movie ("The Joys of Jezebel"), a character of that name in "Four Rooms" (she's a witch, natch), and Batman villainess Jezebel Jet — former supermodel and someone who ran "a small African country," and happened to be black, placing her in the uneasy Jezebel tradition.
But Jezebel as a villainous talking dog? Ladies and gentlemen, this is a first. Treasure this moment, and be prepared to someday answer awkward questions from your kids.
[Photos: "Marmaduke," 20th Century Fox, 2010; "Sins of Jezebel," VCI Entertainment, 1953]