Japan vs. "The Cove": The battle continues.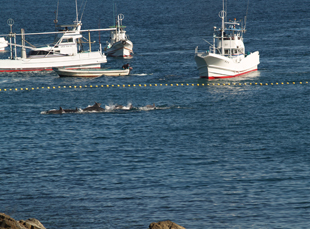 Posted by Vadim Rizov on
"The Cove" is the little documentary that just won't quit. All along, it's been clear that "The Cove" is really two separate movies: one of them is an entertaining, "Ocean's"-style activism-as-heist-film designed for outside-of-Japan viewing. The other is designed to be shown in Japan in order to get a national dialogue going about ending whaling/dolphin slaughter.
But a mere three theaters in Japan agreed to show the film, and they all canceled "after receiving a flood of angry phone calls and warnings of protests by nationalists, who have been screaming slogans outside the Tokyo office of the Japanese distributor in recent months."
A group of cultural figures, including Hirokazu Kore-eda ("Still Walking," "After Life"), signed a counter-petition, saying that regardless of the divisiveness of the subject, "This is a film that has been widely shown abroad. If the work, which is about Japan, cannot be shown in Japan, it only underlines the weakness of the freedom of speech in Japan."
"The Cove" has been an on-and-off source of outrage since last September, the first time the movie screened in Japan and, coincidentally, when whaling season begins. It's a hot button issue: Two anti-whaling activist face 18 months in jail for stealing whale meat; Australia is suing Japan over whaling in the International Court of Justice; two former whalers just went whistleblower on the research program.
Against this background, a key talking point has emerged on the part of people who don't want "The Cove" released in Japan — it's racist and culturally insensitive. Take a gander, for example, at Japanese news clip from last year, in which a man from the local Taiji government speaks calmly about how he thinks "one should recognize that different people have different points of view and different cultural beliefs. […] I'd like to ask them one more time to discuss things in a more friendly manner." The newscast is painted in terms of foreigners inexplicably coming into this town and trying to disrupt a 400-year-old tradition.
But Richard O'Barry — the main activist featured in the film — seems like the kind of mono-minded loon who really cares about animals more than people. I mean that as a compliment, sort of — there's little evidence O'Barry cares where he is, he only cares about the dolphins.
And nowhere in any of the arguments over the film is the most salient point (and the only one that won over someone like me, who could care less about animals): the meat being sold has potentially toxic amounts of mercury in it.
In the meantime, if you want to get a feel for the tenor of the debate, here's an entertaining clip from Japanese TV with a panel of Japanese vs. foreigners (and it's cast in those terms). Takeshi Kitano is there, for some reason, though he doesn't say a single word (perhaps wisely). People yell about whether whales are smart or not, and about cannibalism. They argue about whether people are just getting worked up about cute animals (point, kinda). It's nuts:
[Photos: "The Cove," Roadside Attractions, 2009; "Free Willy," Warner Bros., 1993]