"Inception," and how to market a film while maintaining a sense of mystery.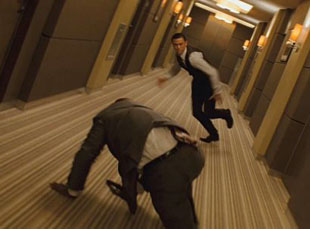 Posted by Vadim Rizov on
Not since Peter Jackson was fresh off "Lord of the Rings" has a filmmaker had as much leverage to do whatever he likes as Christopher Nolan has gotten for "Inception." The one oasis of hope in an otherwise predictable-looking summer, "Inception" naturally raises a niggling doubt. What if Nolan takes all that money and freedom and delivers his very own "Southland Tales"?
For now, in the absence of much concrete information, what we have is a meta-story about the challenges of marketing a blockbuster whose hooks are a) intelligence and b) strictly not to be revealed for the time being. Whatever's going on in the film, there will be surprises, probably in the third act.
Brent Lang at The Wrap notes that there are some problems with this marketing tactic. For one, by concealing the premise from audiences that have proven time and again they want to know exactly what they're getting going in, the potential for alienation is massive. (Per the girls at my subway stop who spent last summer starting down a poster for "Funny People" and saying "I don't know what that movies's about" in a contemptuous voice, not even Adam Sandler can save you if the premise and tone are unclear.)
Another issue, says Lang, is the potentially cerebral nature of the goings-on. As he puts it, "The 'Matrix' trilogy may have managed to ride allusions to French theorist Jean Baudrillard to a $1.5 billion worldwide box office gross, but other high-concept movies such as 'Artificial Intelligence: AI' and 'Public Enemies' have found the summer season less hospitable." So you need to give audiences something so that they won't think they're going into an incoherent intellectual treatise. (Though really, when was the last time that happened?)
Personally, I'm not too worried. While Lang cites bloggers who insist that mainstream audiences need more information than trailers featuring "Leo and crumbling buildings" and that the marketing is "infuriatingly vague," those trailers are perfectly adequate insofar as they tell you the following two things: "Inception" is a movie featuring some very expensive special effects, and also some potentially mind-blowing twists. A formula that, for what it's worth, worked quite nicely for "The Matrix":
That trailer? It tells you about as much (or as little) as we're getting about "Inception" how. It implies there's a nebulous "they" who are "watching" and that there's a revolt on the way — but of goo-ridden bodies, robot masters, mind-control and all the rest there's nary a hint, just a barrage of disorienting, intriguing images, successfully concealing the fact that the big twist is in the first act. The immediate impact of that twist energized audiences as much as any slow-mo gunfights.
"Public Enemies" and "Funny People" may be tougher cerebral sells (relatively speaking), but they're also on the dowdier side. When you combine a blockbuster director and blockbuster effects, you get a pass. When you sell a pre-valued property it's the opposite: people now want to know exactly effect they'll be getting, hence e.g. the dominance of the Kraken in "Clash of the Titans" trailers. This is something different: you're selling the promise of mystery from one of the most trusted directors working today:
[Photos: "Inception," Warner Bros., 2010; "The Matrix," Warner Bros., 1999]