HBO's "Game of Thrones" teaser.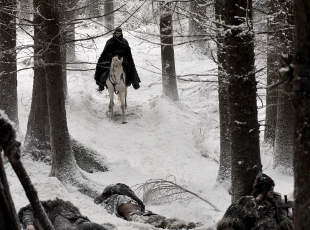 Posted by Brandon Kim on
It was only a few months ago that HBO gave the official green light to what I expect will be its hottest new series, "Game of Thrones." I had to follow up on this TV adaptation of George R.R. Martin's ongoing saga of novels (4 and counting – 2 of which I've read). The books are hugely violent and addictive, with almost every chapter a cliff hanger, as if written for that cut-to-black moment. We already know the end of each episode will leave you drooling for the next.
For the back story on this if you're not the fantasy type and don't already have a pair of leather breeches and a velvet doublet with the sigil of your house embroidered on it, see here.
This teaser HBO aired is too short and gives little away, certainly no indication of the kind of compositions involved. But you do hear Sean Bean, who plays Eddard Stark, saying the mantra of the northern kingdom of Winterfell, "Winter is coming." It's an oft repeated warning in the books, and the tag line of the series. You also glimpse him wielding his huge greatsword, probably beheading someone – the grim and dutiful Eddard insists on carrying out the realms justice himself. And if you pause just right on the frame of the riders at :08 seconds (I did, of course) you can clearly see a direwolf on their banners, the symbol of House Stark of Winterfell. The most prominent house of many involved in the struggle for power in "Game of Thrones."
Yes, it's a family feud drama really, with lots of sex and violence.