Making "Grease" into the latest tween sensation, minus the smoking.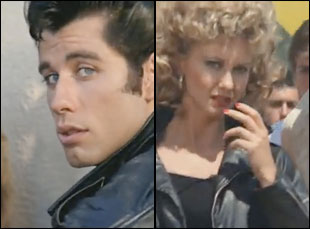 Posted by Vadim Rizov on
It's the 32nd anniversary of "Grease"! I know you're excited! To celebrate, the movie will re-open in "select cities" in a new sing-along version. The Guardian's Stuart Heritage describes it best:
"Grease Sing-A-Long" is a brand new print of the John Travolta musical that displays all the lyrics onscreen, ensuring that you and your best pals can spend an evening wearing fancy dress and belting out all your favourite numbers together while everyone else gets a quiet night off from you and your awful friends.
Heritage goes on to point out numerous other changes that have been made to the film: John Travolta's cigarette has been digitally erased (as has Olivia Newton-John's at the end), lyrics now read "the chicks'll scream" rather than "cream." There's almost certainly more where that came from; how many changes Paramount made to the film when no one was paying attention is unknown.
This kind of practice is generally frowned upon, for obvious reasons. Certainly when Steven Spielberg went back and took out guns and a reference to "terrorists" from "E.T.," no one was very pleased. But that, at least, was his decision — who knows to what extent "Grease" director Randal Kleiser was involved in the musicalization of his movie?
(Fascinatingly, according to his website, in recent years Kleiser has been busy taking the technology from Disney World's "Honey, I Shrunk The Audience" attraction and using it — at the government's request — "to develop a 360 degree hi-def simulator to train soldiers to deal with Improvised Explosive Devices in the current war in Afghanistan." The Army's being trained by the director of "The Blue Lagoon"!)
You'll note that these aren't the old, follow-the-bouncing-ball song lyrics of yore; they're blue and pink, popping and weaving, sometimes scratched into the background, upstaging the yeomen-esque visuals easily. In a smart, cynical bit of advertising, the titles inform us that this is "the original High School Musical."
And indeed, the whole point of this project — from Travolta's cleaner bill of health to the de-sexualized lyrics — seems to be to update a durable brand name for a new generation, giving them a hyperactively pastelized version of a movie that wasn't all that special to begin with. The '50s are the '70s are the teens.
It's also worth noting that the end of the trailer has some instructions for you. If you're not in one of those select cities? Use "Demand It" — now a registered phrase — to get it to you, the same way "Paranormal Activity" grew. And please, go on Twitter and spread the "grease" hash-tag. So not only is Paramount actively using an old property to court a large tween audience (thereby saving themselves a passel in production costs), they're outsourcing as much of the marketing cost as possible to them in the process. But will the kids buy it?
[Photos: De-cigaretted Travolta and Newton-John from "Grease," Paramount, 1978; "High School Musical," Disney, 2006]