Geeks rejoice! A 1-Bit Symphony, art, music and microchips.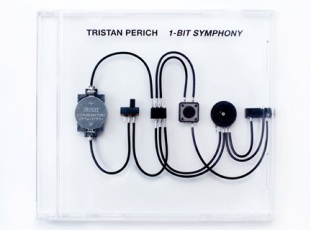 Posted by Brandon Kim on
I may look it in that 4 year old picture above with those old 1960's Maurice Micklewhite glasses, but I'm not that much of a geek. I don't like math, and I don't get off on laptop music or freak out in coffee shops about emerging network protocols evolving into a sentient intelligence. But this little piece of work by Tristan Perich is awfully neat.
Just look at it. It's a work of art, of human ingenuity, and tinkering. It's also an album, an electronic composition. A symphony in five movements on chips and wires. The housing is familiar, a CD jewel case, that also incorporates the speaker with which you can listen to the album – it plays the through a headphone jack mounted into the case.
This is no ordinary recording though. Like a typical work of music, the composition was written, or in this case programmed, and then hands went to work, in this case assembling the circuitry. But when you listen to it you're not hearing a recording since the contraption is literally performing the music when you turn it on.
It is the successor to Perich's 1-Bit Music from 2006, but with technological advances he's reduced the hardware and upped the output. To put it simply, "1-Bit Symphony utilizes on and off electrical pulses, synthesized by assembly code and routed from microchip to speaker, to manifest data as sound." So simple.
Check out the man himself talking about this latest work. Man he's deep out there. Open the pod bay doors, HAL. I look forward to the addition of vocals in the future, perhaps a rendition of "Daisy" would do. Daisy, Daisy, give me your answer do. I'm half crazy all for the love of youuu.