"Freaks and Geeks" and "Undeclared" are coming to IFC!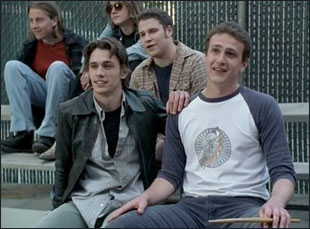 Posted by IFC on
Before Judd Apatow was the king of R-rated comedies.
Before James Franco did "General Hospital."
Before Seth Rogen became a massive movie star.
Before Jason Segel owned the hilarious full frontal.
Before all of these things, Apatow, Franco, Rogen, Segel and many other talented types worked on "Freaks and Geeks," one of the greatest TV shows ever, though it only lasted a single hilarious, heartbreaking, almost perfect season. It was followed up with a solo season of the just as good, but very different college comedy "Undeclared," starring Jay Baruchel, of, these days, the likes of "The Sorcerer's Apprentice."
And now you'll be able to watch both right here on IFC.
"Freaks and Geeks" will kick off on Friday, July 2 at 11pm ET/PT, with an encore airing on Mondays at 11 pm and Sundays at 10 pm.
"Undeclared" will debut this fall — including a previously unaired episode that will make its U.S. television debut on IFC.