Flying tanks are sinking action movies.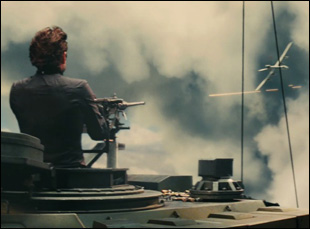 Posted by Matt Singer on
In his podcast review of "The A-Team," the A.V. Club's Scott Tobias articulated something I've been trying to put my finger on recently regarding my frustration with a lot of recent action movies. Though Tobias liked "The A-Team," he took some time to critique the film's extravagant use of CGI, which he argued "has harmed action movies [in general]:
The you-can-do anything possibility of CGI has allowed for things to happen onscreen that maybe are not that entertaining. The original 'A-Team'… was limited by stunts and by practical effects and what you can do with what budget you have for a TV show in the 1980s. [The film 'A-Team'] is a splashy, nine-figure Hollywood action movie in 2010, so the various plans that come together in this film are so completely crazy that it insults the intelligence too much.
If I understand Tobias' argument — and if I don't, forgive me, I'm going to turn it into my own — the problem with CGI in this context is that it permits the A-Team to do things that move beyond the realm of the highly improbable into the world of the totally impossible. If the TV "A-Team"'s action sequences were limited by what they could practically do and physically accomplish, that was a good thing because the characters themselves were limited by what they could practically do and physically accomplish.
If, as Orson Welles believed, the absence of limitations is the enemy of art, there's a certain artfulness to the raw ingenuity of the original "A-Team" (and a certain lack of artfulness to the decadence of the new one). Hannibal might think it would be really cool to fly a tank through the air and use it to kill a plane, but if he can't actually pull it off because it violates the laws of physics, it's sort of a moot point.
CGI has rendered moot points moot. Like Patton Oswalt's line about reckless science, modern CGI is all about coulda, not shoulda. Instead of operating as a filmmaker's tool, it becomes the entire machine. And while CGI can look beautiful, inspire awe, and even move us in the right context, it divorces action from the things we like about it: the element of risk, the feeling of danger, the thrill of knowing someone's actually attempting the things we're seeing onscreen. Watching the A-Team fly a tank is like listening to someone sing through an Auto-Tune. It might be aesthetically pleasing, but it's not impressive.
CGI action can be entertaining, and it certainly has its place in films with more fantastical and supernatural elements, but in more grounded, real world fare, it levels the action playing field in a way I don't like. There's a Darwinian quality to great stuntmen and physical comedians like Chaplin, Keaton or Chan: they got to where they were because they were more gifted, more talented, and more daring than anyone else.
None of that applies to actors performing in front of a green screen with tennis balls on strings as scene partners. Anyone with a good enough computer and some decent cinematography skills could turn themselves into a stuntman these days — hell, I could be the one in that flying tank. But instead of making those stunts more appealing, it has the opposite effect. There's no awe, just bemusement. Action shouldn't be relatable. I'm reminded of the lesson of "The Incredibles": when everyone's special, no one is.
I started thinking about some of these ideas while reviewing the thoroughly pleasing "Undisputed III: Redemption" recently for my straight-to-DVD column. There you have some gifted physical artists, men like Scott Adkins and Marko Zaror, doing some really impressive stunts. But the filmmakers still felt obligated to slow down their work with needless camera tricks and slow-motion. Every one takes us further away from the actors, and gives us a reason to think something is fake or staged or aided by hidden wires.
If guys like Adkins and Zaror don't need the help, don't give it to them. No so-called "special" effect will ever be as special as that tingle you feel up your spine when a real person attempts something really dangerous. Does CGI ever make your palms sweat the way mine do when I watch Chaplin on his rollerskates? The closer an action film gets to a documentary, and the further it gets from quick cuts, camera tricks, and even slow-motion, the better. Call me old-fashioned if you want. In my day, tanks didn't fly.
[Photos: "The A-Team," 20th Century Fox, 2010; "Prince of Persia: The Sands of Time, Disney, 2010; "Undisputed III: Redemption," Warner Bros., 2010]