If you're going to fail, you might as well fail big.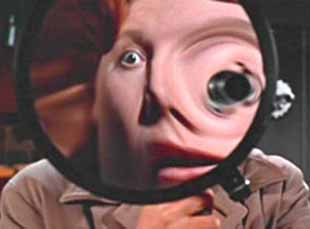 Posted by Vadim Rizov on
It's been 50 years now since "Psycho" horrified critics, and 13 since David Lynch decided to be a smart-ass and put Siskel & Ebert's "Two thumbs down" verdict on the poster for "Lost Highway," a gap which tells you everything you need to know about the present inability of a single film to destroy someone's career.
Over at the Independent, Geoffrey Macnab provides a brief (if Brit-centric) overview of critically reviled (at the time) career-killers ("Peeping Tom," "Heaven's Gate") — and, more tellingly, a list of the films that prospered anyway ("2001," "Bonnie and Clyde") or came in time to be hailed as masterpieces ("The Rules of the Game").
Sometime shortly after "Heaven's Gate," it became seemingly impossible to torpedo your career with a single big-time flop — after Elaine May imploded with "Ishtar," we presume, though her well-publicized neurotic perfectionism surely had something to do with that. Barry Levinson was a trailblazer in the field, following up the high-profile misfire of "Toys" with more disastrous movies ("Jimmy Hollywood," "Sphere") without ever missing a beat.
Renny Harlin basically bankrupted Carolco Pictures with "Cutthroat Island," but he was back the next year with "The Long Kiss Goodnight" and has worked at a steady clip ever since. Four years after "Lost Highway," Lynch had "Mulholland Drive"; even Kevin Costner was able to follow up "The Postman" with "Open Range" a mere six years later, when he should've been dropped in purgatory as fast as possible.
This is not a perfect rule of thumb: Martin Brest, having made "Meet Joe Death," unwisely followed it up with "Gigli," and then watched his entire career go to hell. But Brest was never a brand-name like those directors, who always brought something obvious to the table (Levinson his pedigree as a long-respected writer-director, Harlin a reputation for shooting fast with an eye towards maximal box-office pandering)
Inexperienced foreigners, too, are advised not to push their luck, as French effects wizard Pitof found out after "Catwoman." On the other hand, if you're Roland Joffé, you can make terrible movies no one sees for fifteen years straight ("The Scarlet Letter," "Goodbye Lover," "Vatel," "Captivity") and still prosper.
The really interesting thing is that the directors who suffer most tend to be the low-stakes guys, the ones whose failures are modest. It will always be a mystery why George Armitage took seven years to follow-up the cultishly beloved "Miami Blues" with the even cultier "Grosse Pointe Blank," and why the troubled but relatively inexpensive "The Big Bounce" has seemingly terminated his career.
Nor is it clear why Harry Elfont and Deborah Kaplan — of the generationally beloved "Can't Hardly Wait" and "Josie and the Pussycats" — haven't made a movie in a decade, instead writing junk like "Leap Year" and "Made of Honor" to get by. The big offenders squeak by, the little guys get squashed. Lesson learned: if you're going to fail, fail big. Even as we speak, Joe Johnston is prepping his follow-up to "Hidalgo" and "The Wolfman": "Captain America," coming your way 2011.
[Photos: "Peeping Tom," The Criterion Collection, 1960; "Gigli," Sony, 2003; "Miami Blues," Orion Pictures Corporation, 1990]