Facial hair, the secret to going from teen heartthrob to serious actor.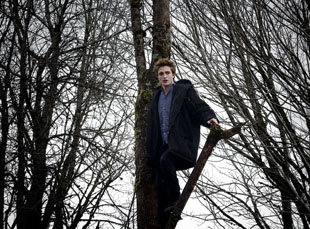 Posted by Vadim Rizov on
Regardless of how you feel about the "Twilight" franchise, it's hard not to read Brooks Barnes' brief New York Times profile of vampire heartthrob Robert Pattinson and not feel at least a little bad for the dude.
Pattinson's apparently been reduced to giving interviews in "an outdoor nook surrounded by tall hedges" while noting how "The more you are exposed, the more people irrationally hate you." (Yes.) Whatever you think of him as an actor, here's a guy who has become famous for a franchise that, when it's done, will leave him with one defining image for the next 50 years unless he pulls out some kind of miraculous transition.
To prove his point, Barnes calls on academic Jeanine Basinger, who names a bunch of teen stars who never got past their defining moments in cuteness — "The Blue Lagoon"'s Christopher Atkins, Corey Feldman, potentially Zac Efron — and cited the inevitable exception, Leonardo DiCaprio, whose success, we're told, was in part due to "picking gritty roles and teaming with Martin Scorsese."
In truth, it had more to do with his shaving habits.
"Titanic" is cited as the turning point in DiCaprio's career. It made the equally swoony success of "Romeo + Juliet" look like a joke. This, however, was after a number of tough roles — "This Boy's Life," "The Basketball Diaries," "What's Eating Gilbert Grape" — that had already shown the young actor's range and stamina for mentally exhausting parts. Compared to them, "Titanic" was a piece of cake, the toughest bit being the physical conditions. A number of post-"Titanic" career stumbles later, DiCaprio hit his stride in 2002 with "Gangs of New York" and "Catch Me If You Can" and never looked back.
DiCaprio's greasy hair and face made sense for "Gangs," which took place back in the days when a man wasn't a man unless he demonstrated that he had enough testosterone to grow a full pate's worth of hair on his face (although Daniel Day-Lewis' mustache still towered over DiCaprio's scraggly growth).
Subsequently, DiCaprio has proven constitutionally incapable of appearing clean-shaven on screen unless the part is set in the earlier days of the 20th century ("The Aviator," "ReservationRevolutionary Road"), where facial hair was for social reprobates and other marginal types. This has nothing to do with his performances, and it tends to make him look jowly and pissed-off, but it's certainly been a good way of avoiding charges that he's too much of a man-child. If Michael Cera wanted to get haters off his back, seemingly all he'd have to do is grow a solid goatee.
Which is to say: hello Mr. Pattinson. Do you want to be taken seriously? Grow some facial hair! Preferably the type that looks careless rather than elegant (or hilarious, in the case of his role as Salvador Dalí in "Little Ashes").
It worked so well for DiCaprio. And just marvel at how far we've come since Alec Baldwin allegedly refusing to shave off his beard for "The Edge" back in 1997 almost destroyed a movie.
[Photos: "Twilight," Summit Entertainment, 2008; "Gangs of New York," Miramax, 2002]