Exclusive: Neon Indian perform "Should Have Taken Acid With You."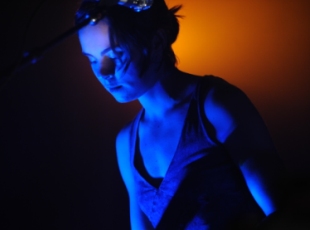 Posted by Brandon Kim on
Neon Indian offers analog synth sounds in gleefully gratuitous quantities, cotton mouth Eurythmics beats, dot matrix Hall & Oates harmonies, a Huey Lewis & The News attitude about drugs… some may consider it an 80's overdose.
But if you don't like it you probably never liked any of it. And that's more of a downer than this woe and regret ballad, "Should Have Taken Acid With You" that Neon Indian performed at SXSW.
For live shows, creator Alan Palomo is joined by a crew of musicians to crank out his nostalgic brand of electronic psyche. Watch them drip into this one, wait for it….
I'm reminded of a friend from another life time, she wore a raspberry beret and had a slight overbite, not too much, just enough to be adorable. One night I dreamed that we were in a library looking through old Medieval record books trying to figure out who we'd been in a past life. It was incredibly vivid. I ran to her place the next night and awkwardly started telling her about it. "And we, well, we were in the library." I said.
She looked at me with a mixture of delight and fear, "Looking through old medieval books," she finished my sentence, "I had the same dream." I should have married her right there, but she was going to do acid with some other people that night and I foolishly went my own way. Of course, something went down with her and this musician dick while they were tripping and we drifted apart. Thanks for reminding me Neon Indian!
They have another new video out today, for "Sleep Paralysist", you can check out on Spinner. Here's a little behind-the-scenes from the making of it, courtesy of Green Label Sound.
Photo from the SXSW performance by Chris Reddish.