Exclusive Interview: John Densmore of The Doors.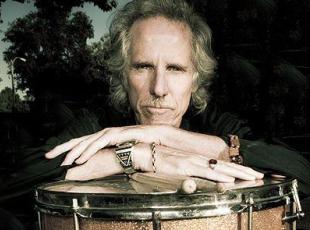 Posted by Brandon Kim on
I dig John Densmore, not just because he was once portrayed by Kevin Dillon on screen, but because he is a believer. How easy would it be to just cash in on that catalogue of tunes for advertising? "Light My Fire," "Break on Through," "Love Me Two Times." They're almost ready made for the biggest commodities of our times, cars and male enhancement drugs. But Densmore's not in it for the money even though others have sometimes seen no harm in commercializing The Doors, he won't budge. Not since being chastised by Morrison in '67 for initially going along with a Buick ad anyway.
"What was that original intent?" Densmore wrote in an article for The Nation in 2002. "What is happiness? More money? More fame? The Vietnamese believe that you're born with happiness; you don't have to pursue it. We tried to bomb that out of them back in my youth. From the looks of things, we might have succeeded."
I talked to Densmore a couple months ago (sometimes these things get delayed) about Tom DiCillo's documentary "When You're Strange" which took on a new life when Johnny Depp came on board to narrate.
I know this film has had some tweaking over the past year but now that "When You're Strange" is all wrapped what do you think, is this The Doors as you know them?
One of the aspects [laughs]. I'm impressed. When I first heard the idea I thought, well this is a lot of old footage, I don't have a lot of hope for this. I got to say Tom DiCillo, assembled and wrote a beautiful narrative. It's got more depth, and there's some magic in there that nothing has had to this date.
You mentioned the footage which is all original from the 60's and 70's. Do you recall the original projects it's culled from, "Highway" or "Feast of Friends"?
Oh sure, I know every frame. "Highway" was Jim's film he made at UCLA, I think it was shot to be in this film. It just fits so perfectly.
Did you wince at any of that old footage or is it all sweet nostalgia now?
No wincing. Not just nostalgia, but reliving a beautiful dream I had a long time ago. I don't quite know what it was, but it was beautiful.
You said this shows one aspect of what it was like for you guys, in the late 60's, what would you focus in on more of that beautiful dream, or what's missing?
I wasn't implying that something was missing; it's just one part, another take. Like Oliver Stone's film, which I liked…
Oh you did?
Sure, yeah others didn't but I did. I mean, Val Kilmer should have been nominated. It focused on the self destructive artist. But this film not only has the real people instead of actors, but you get a feeling of the period more. The 60's and the political climate and you get a little more of Jim early, and humorous. It's a little more well rounded.
You sure there isn't anything from your perspective that you would have added?
Well, more drumming! [laughter] No, I'm quite pleased with it. And somehow with Johnny narrating, there's some magic in there that's indefinable. I don't know, you get it, we're there.
Dick Wolf (producer) commented about how the tonal changes Depp made and the decision to use first names made the material more intimate than it was in the first cut.
You know Johnny brought this integrity, because he knows what it's like to be an icon. At a screening, Johnny turned around to me and he said, "Man, this is really good." Coming from him that feels great.
What about the soundtrack does this nail it for you?
I'm very glad you brought that up. I asked Johnny, "Would you be open to reading a couple of Jim's poems that are not in this movie?" Just to round out the soundtrack, make it more interesting. I suggested some apropos poems and he went for it. So the soundtrack has Johnny Depp sprinkled through it.
Nice. And are you pleased with the songs from The Doors catalog that were chosen, from a scoring perspective?
Yeah, Bruce Botnick our long time genius recording engineer supervised all the sounds and the songs in the film so it's a great relief to have someone who completely understands what we're about doing all that. So we don't worry at all. He's the fifth Door [laughs].
I've heard you've got some disdain for commercializing and tended to veto licensing deals, how do you feel about The Doors and advertising?
Well I'm quite reluctant. I don't think I've okayed anything. Well, we all okayed one, but check out the last line of the film and that will answer that question!*
What film would you like to live inside of, if you could?
Fellini's "8 ½." When I was a teenager I saw that and I didn't understand it but it just ripped my head off.
*I'm not going to spoil the last line of the film here. You'll have to see it.