"Edgar Wright Saves the World" at the L.A. Film Festival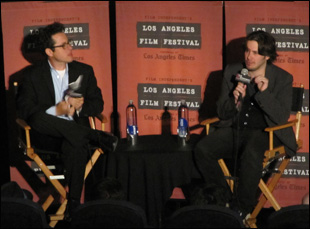 Posted by Stephen Saito on
"I hope you guys aren't frustrated that it's J.J. interviewing me and not me interviewing J.J.," joked Edgar Wright, sitting across from J.J. Abrams at the Los Angeles Film Festival for a two-hour plus conversation about his career. "And that at the end, you won't get to ask him questions like 'When the fuck is 'Star Trek 2' is coming out?'"
"We're here for you, Edgar," replied Abrams, without missing a beat. "It's an intervention."
Funny thing is it was the people in the audience who were the addicts, eager to see what proved to be nine minutes of footage from Wright's latest "Scott Pilgrim Vs. the World" and a thorough career retrospective for a director who is only 36. Wright's already earned a legion of fans with his comedies, which include the TV show "Spaced," "Shaun of the Dead" and "Hot Fuzz."
Count Abrams among them, as the "Alias"/"Star Trek" mastermind barely referenced his own experiences in the industry, instead firing off one burning question after another to Wright with a boyish, geeky enthusiasm. (One of the highlights of the night was Abrams interrupting the answer to an unrelated question just to ask Wright which was his favorite scene in "Evil Dead 2." Answer: The 20-minute sequence of Bruce Campbell alone.)
While there were plenty of amusing stories and insights during the evening, from Wright's dismay at a wrap party for "Spaced" where his cameraman told him "I don't think there's a single bit of this I'd put on my showreel" to the elation of having George Romero love "Shaun of the Dead" — ("He watched it on his own with a bodyguard from Universal. I love the idea that George Romero would pirate the film himself. He's quite entitled to have the residuals from it."), what follows is a recreation of some of the best bits in Wright's own words for those who couldn't make it to the sold out discussion, including thoughts on "Scott Pilgrim Vs. the World."
"Dead Right" (1993)
Wright won a video camera on the British TV show "Comic Relief" when he was 16 and "made a superhero film, a western, a video version of the film I then made on 16mm ('Fistful of Fingers') and then this, the last one, which might look familiar if you're a 'Hot Fuzz' fan," since it was shot using many of the same locations in Wright's hometown of Somerset. While the full clip Wright showed isn't online, here's a taste of his first foray into the world of hard-boiled cops and criminals and an anecdote about shooting a violent film in public.
Wright: That playground you could only get in from 6:30 to 9 before the kids turned up and then like 6:30 till 9 after the kids are gone. And it was not dissimilar to shooting 'Hot Fuzz,' where we didn't really have all the streets locked down, so three 18-year-olds with guns and fake blood and knives weren't really supposed to be in a children's playground. (laughs) I remember one shot where the cop is standing there with blood all over him and a gun. This old man came up to him, not seeing me or the camera, and he said, "you can't play with guns in a children's park!" [Wright and his actor explained,] "No, we're making a film. No, it's not real. It's fake blood, it's a fake gun. This is a water pistol." [They pleaded with the man, explaining to him that it's fake, before the man snorted,] "Well, grow up then." And stormed off.
"Fistful of Fingers" (1995)
Wright was just three weeks out of art college when he decided to shoot his first proper feature on £11,000 and a 21-day schedule, inspired by the low-budget DIY style of Peter Jackson's "Bad Taste" and Robert Rodriguez's "El Mariachi." Though one of his professors warned, "don't do a spoof as your first film; do something original," Wright made this Western send-up that was a remake of one of his earlier shorts shot on video. He realized during editing, "There was a lot of nice stuff in it, it wasn't as funny as the Video 8 one and trying to reshoot the same gags with the same people in the same locations, just the spirit of it was lost along the way." He didn't bring a clip of the film to show, but he did speak about its critical reaction.
Wright: I guess it got released in a cinema, not in cinemas. The weird thing was it came out the same weekend as "GoldenEye." Even though it was on one screen, as happens in the UK, it got reviewed everywhere and some people gave it a good review, like the Evening Standard and the Telegraph, but then Empire magazine, which I collected since issue one, gave it one star. Being a 21-year-old and reading that was just crushing — I thought ohhhhh noooo. Even being at the shop, looking at all the magazines and reading that, I still had to buy it. I threw out all my Empires except for that one. That's my picture of Dorian Gray; I had to keep the one with the review of "Fistful of Fingers."
I think if it ever got released on DVD, I'd like to do a lot of supplementary material as some kind of cautionary tale. I probably make too much of a meal of it being bad, as well as the one-star review… and this is the thing with the "GoldenEye" thing, you will be judged against other films. I kind of thought 'well, "GoldenEye" cost like $100 million. You can't be reviewed against that.' No, that doesn't happen.
There was a good review in a listings magazine. I was completely broke at the time and unemployed. After reading the Empire one seeing a good review is like finding the golden ticket inside the Wonka Bar. I found the magazine, I had no money and I stole the magazine.