Video Games Prime Movers Show Off New Dimensions at E3 2010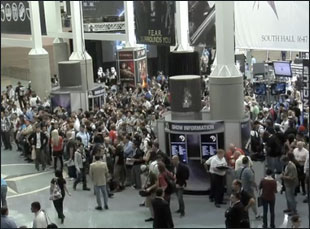 Posted by Evan Narcisse on
Every year, video game developers and the gamers who love their creations flock to Los Angeles for the Electronic Entertainment Expo, otherwise known as E3, a showcase of the hottest new titles and trends for the upcoming year. The industry's biggest studios, designers and publishers all compete for the precious hands-on time that generates the hype so crucial to making their games a success.
Throughout the three-day extravaganza, the expo floor's an intense cacophony of music, game sounds and occasionally frantic yelling. And on top of all of that, the platform holders — the companies who makes the PC and console hardware those games run on — offer arguments as to why a PC, Wii, Xbox 360 or Playstation 3 is superior to its competitors.
Ever since video gaming became a pop culture phenomenon in the 1980s, gamers have been pushing buttons and moving controllers to battle giant monsters or explore alien landscapes. But at this year's E3, there are signs that button-mashing may be getting replaced by arm-waving and body contortions.
The rising trend of gesture-controlled gaming started in 2006 when Nintendo introduced their revolutionary Wii console. Using a remote and nunchuk, the Wii replicated the players' movements on TV screens, letting them bowl, box or play tennis in a simple and fun way. The Wii became a huge success, and now Sony's Playstation and Microsoft's Xbox 360 are showing off their own motion gaming add-ons.
Announced this year at the Game Developers' Conference, the Playstation 3's motion controller goes by the name Move. With a bulb-tipped wand and a sub-controller used for navigation, it will work with a camera to capture movements in real time for a variety of different games.
It's more precise than the Wii and the better graphics on the PS3 make games built for the Move look incredibly realistic. Sony's touting this realism, along with the ability to play established franchises that hardcore gamers love — like military third-person shooter "SOCOM 4: U.S. Navy SEALs" — with Move, as an advantage over Nintendo.
Sony also trotted out the first steps of its 3D strategy, coinciding with a software update that lets PS3 users play select titles in 3D. Of course, you need a bleeding-edge 3D-capable HDTV to take advantage of that viewing mode. (Conveniently, the Playstation division's just one part of a huge conglomerate that also sells 3D TVs.)
The marquee title used to show off the PS3 3D experience was "Killzone 3," a sci-fi first-person shooter. Playing the FPS with 3D glasses made the alien landscape seem even more vast, foreign and hostile. One giant gun you get to carry stretched far out into the background and enemies wearing jetpacks floated away from the screen, threatening to blast the viewer right in the face. Still, ten or 15 minutes of watching and playing KZ3 made eyes water and heads ache, so the kind of three- to four-hour marathon session usually enjoyed by FPS players will be a lot tougher to enjoy.
While Sony's Move controllers are looking to improve on the idea of controller-based gesture input, Microsoft wants to do away with the controller altogether. The Kinect add-on for the Xbox 360 uses a camera that senses depth and tracks your skeleton to allow for full-body control of a whole series of games. Kinect will let you run hurdles in a track event and even play with a baby tiger. Its voice recognition will let you control playback of movies and TV shows, too. Here's my Q&A with a Sega developer about "Sonic Free Riders," the publisher's initial efforts on Kinect:
Confident in their lead in the home console arms race, Nintendo's big push was on the handheld front, with the debut of the Nintendo 3DS. The next evolutionary step of their wildly popular DS portable, the 3DS also traffics in the third dimension, but does so without requiring any special glasses. It seems that there's a lenticular screen interpolating offset images. The slider on the side of the unit changes just how offset they are, which creates more or less depth. The slider also lets you turn the 3D off entirely, too.
Ushering in the 3DS is the return of the company's beloved "Kid Icarus" franchise. Long absent from a starring role in his own game, angelic hero Pit flew through webs of energy and over cloudy skyscapes in the demo shown after the Nintendo press conference featured.
Games won't be the only content on the 3DS, though; major movie studios have also pledged to make their films available on the portable. Slated to show up on 3DS are titles like "How To Train Your Dragon" and Disney's upcoming "Tangled." Another added feature the 3DS will sport is a built-in two-lens camera so users can snap their own depth-laden images.
All of this means that, this coming fall, there'll be a massive battle to see who comes out on top of the motion-gaming heap. Whether it's Playstation Move, Kinect for the Xbox 360 or Nintendo's Wii, each system will have lots of cool new experiences for their fans. So it's gamers all over the world who will be the real winners.
[Additional photos: Playing "Sonic Free Riders"; "Killzone 3," Sony, 2011; Nintendo 3DS]