DVD-sniffing dogs, the more adorable side of the anti-piracy battle.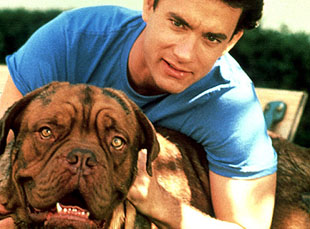 Posted by Vadim Rizov on
The MPAA has tried out many tactics in their battle against piracy, from lawsuits to seeding fake torrents. But one mode is far cuter than the rest.
The first DVD sniffing dogs were introduced in 2006: Lucky and Flo, two black labs who together have sniffed out at least 1.9 million pirated disks, leading to the arrest of 26 people.
Then there was Ruca, Portugal's own black lab, and the late Manny, a yellow lab, who was found dead before he had a chance to get to work. Foul play was suspected: a bounty of $28,000 allegedly hangs over the heads of Lucky and Flo. The autopsy was never made public — the MPAA ordered movie theaters to fly their flags at half-mast.
The latest addition to the canine anti-piracy family is Dixie, who'll be assisting government councils in Scotland. Dixie is a thoroughly adorable springer spaniel who can also sniff out tobacco.
Living in the age of BitTorrents, it's hard to imagine how this is more than a savvy PR move for the oft-embattled industry, but there are still plenty of places in the world where it's easier to get burned DVDs than a fast internet connection. Five years ago, police found £350,000 worth of CDs and DVDs in Clackmannanshire, so clearly Dixie has her work cut out for her.
There are, of course, plenty of videos on YouTube of foreign pirate markets (the last one raises the ante by using the "Battles Without Honor Or Humanity" theme music). It's an industry that still hustles, as it circumvents the risk of being tracked online and sued. (And it can move faster than the industry — if you're getting impatient about when Jim Carrey's turn in "I Love You Philip Morris" will finally make it to American screens, I've seen plenty of copies being flaunted on the street in New York for the last month. Just saying.)
At any rate, this may yet be a striking growth area for dog trainers, even if distinguishing a pirated DVD from a legit one by smell will remain eternally impossible. Want some videos of dogs? This is as close as I'll ever come to posting cute animal YouTube clips here, so please, savor the moment — here are Lucky and Flo at work:
[Photos: "Turner & Hooch," Bueva Vista, 1989; "I Love You Philip Morris," Newmarket Films, 2009]