"Dogtooth," a Different Kind of Greek Tragedy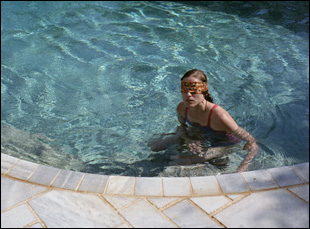 Posted by Bruce Bennett on
Bright and attractive, ceaselessly curious about their world and about the words, emotions and sensations connecting them to it, the three unnamed siblings in Greek director and co-writer Yorgos Lanthimos' remarkable new film "Dogtooth" would be the picture of healthy development — were they on the threshold of puberty.
But the oldest daughter (Aggeliki Papoulia), the son (Christos Passalis) and the younger daughter (Mary Tsoni) are all full-grown adult subjects of an unexplained sinister psychological experiment cum lifelong guerrilla theater piece orchestrated by their father (Christos Stergioglou) and mother (Michele Valley).
From oldest to youngest, the offspring believe they're confined behind the hedged wall of their home for their own protection from an outside world whose farcical and totally fictional rules they have been spoon-fed from infancy by their parents.
Intentionally or not, Dad and Mom have succeeded in creating an environment in which the infantile ideas, associations and assumptions of pre-adolescence have gained in relevance and accuracy as the kids have, physically at least, matured.
The parental view on such topics as where both babies and puppies come from, the possible fate of jetliners flying overhead, and what the words to Sinatra's recording of "Fly Me to the Moon" translate to in Greek are totally bizarre and yet seem perfectly logical if one were to artificially extend a sun-dazzled pre-teen summer in a sprawling garden estate indefinitely and guilelessly take what parents say as gospel.
Pent up together, the three siblings go about the business of justifying and sorting out father and mother's litany of do's and don'ts, rewards and punishments, and slanted history the same as we all do in childhood, except that almost nothing their parents say is true. Very little of what they do (particularly the punishments) appears to be for anyone's good.
The inevitable threat to this crackpot Eden arrives in the form of Christina (Anna Kalaitzidou), a security guard from the father's real-life factory job moonlighting as a sex partner for the son. Christina soon develops designs on other members of the family and improvises a barter system to receive certain intimate ministrations that eventually has world-shaking (this household's world, anyway) consequences.
Lanthimos initially presents glimpses of the family's inscrutable but believably banal rituals in a jagged assembly of off-kilter frames and truncated scenes. For a movie built on a conceptual conceit as provocative as this one's, there is barely a syllable of on-the-nose explanation as to what on earth has motivated these parents to force their family to live the way that they do.
If "Dogtooth" were a science fiction movie — I'm almost positive it's not, though the family's fortress-like stockade, the father's austere workplace and other details do lend the film a post-apocalyptic quality — there would likely be explanation aplenty. But in lieu of tight close-ups of faces authoritatively reminding us what's at risk and how things got the way that they are, we get widescreen frames that often cut off characters' heads entirely.
What initially plays like self-consciously cultivated Euro-creepy art movie remove in the Michael Haneke ("Funny Games"), Ulrich Seidl ("Dog Days'), and Gaspar Noé ("Irreversible") style, has the effect of putting the cast in the emotional driver's seat instead of the camera, and each actor in "Dogtooth" does yeoman's work constructing characters that live more or less comfortably in a genuinely discomforting milieu.