Dissecting the many metaphors of "Splice."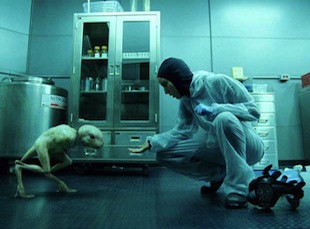 Posted by Matt Singer on
NOTE: This piece contains SPOILERS.
The trailers sold "Splice" as a science-gone-wrong monster movie. The June 4th opening suggested dumb summer horror. But director Vincenzo Natali's film is a lot smarter than its marketing or release date suggest.
Maybe too smart for its own good — it received a grade of D from audiences in Cinemascore's exit polls, according to this week's box office report from Entertainment Weekly. Though the film does deliver some solid scares, impressive creature effects and its fair share of gore, "Splice" is more than a simple genre retread. Natali and co-writers Antoinette Terry Bryant and Doug Taylor layered their screenplay with all sorts of clever metaphors. Here's three I caught; I'll look to you, commenters, to tell us which others I missed:
Mad Science as Parenting: "Splice"'s plot involves a pair of married scientists, Clive (Adrien Brody) and Elsa (Sarah Polley), on the cusp of a major breakthrough in the field of gene splicing. As the film begins, they're reveling in the successful creation of Fred and Ginger, two sacks of fidgety flesh filled with valuable proteins ready for harvest. Though Fred's easily one of the most repulsive looking creatures you'll see in a movie theater this year, Elsa can't help but dote on him. "He's so cute!" she brags. And why shouldn't she? Fred's her baby, and parents always think their ugly babies are adorable.
Clive and Elsa don't have any kids; the creepy crawlies "born" in their laboratory are their offspring, and "Splice"'s parenting metaphors get even more pronounced with the arrival of their latest bundle of joy (and occasional terror), Dren. She's the result of the scientists' addition of human DNA to Fred and Ginger's genetic stew. Since Clive and Elsa's bosses haven't approved the morally and economically questionable experiment that creates Dren, the pair have to take care of her themselves in secret. And while Dren, with her alien, hairless head, stubby raptor arms, and triple-jointed chicken legs, is a pretty unique looking baby, the problems Clive and Elsa face raising her are, for the most part, pretty typical: difficulty feeding a finicky eater, comforting it when it's scared, dealing with its tantrums, and reinforcing its boundaries.
And the allegory doesn't stop with the way Clive and Elsa deal with Dren; it also applies to how they deal with each other. Like most parents, Clive and Elsa's relationship is changed by the addition of their little "miracle." Again, the issues are familiar: They stop having sex and sleeping. They argue more. They disagree over the best ways to teach and discipline. They worry they're screwing everything up and ruining their child's life. In this context, you could read the film's ending in a couple different ways: maybe they do mess up Dren, and suffer the consequences for it. Or maybe children are just inherently little monsters who ruin their parents' lives. Either way, married couples considering babies of their own should keep their distance from this movie on date night. It's like "What To Expect When You're Expecting (The Worst)."
Monster Killing as Abortion: If the whole film is a thinly veiled metaphor for parenting, it makes sense that these parents might, in a moment of panic, consider terminating their scientifically engineered pregnancy. Which is exactly what happens after Clive begins to regret letting Elsa fertilize an egg with their splice-y DNA.
Natali, Bryant, and Taylor's choice of dialogue is deliberate and unmistakable. When they first fix their eyes on Dren, Elsa asks, "What is it?" Clive responds, "A mistake." Putting his foot down after a series of acquiescences to Elsa, he announces that his intent to kill their creation. "Do you have to do this?" pleads Elsa. "You don't have to," Clive replies. "I'll take care of this." The gender reversal going on in that moment mirrors the increasingly ambiguous gender roles of certain characters later in the film.
Mad Science as Filmmaking: "Splice"'s title refers to Clive and Elsa's genetic experimentation, of course, but the word "splice" also refers to the act of film editing. With that in mind — and considering the fact that the film's credit sequence ends with the words "Splice, By Vincenzo Natali" followed immediately by a birth sequence from the point of view of a newborn — we can look at the entire film as an allegory for the act of filmmaking. For a director, a film is their baby. They create it, develop it, watch it grow, and then send it off into the world. Whatever it does, it still has their name attached to it and it's still their responsibility.
It's also possible to read the film as a metaphor for indie filmmakers struggling against the constraints of a system that values commerce over art. Like a lot of independents, Clive and Elsa have their dreams and ambitions — in their case, creating a human/animal hybrid — but are forced to put them on the back burner out of financial concerns. The corporation that own the patents on their work could represent Hollywood studio execs. The push and pull between the scientists and their financiers, who admire their ideas but care more about delivering results to their stockholders, is like the dance between any director and the folks holding his or her purse strings. The scene where Clive and Elsa introduce Fred and Ginger to their company's stockholders represents a disastrous test screening. Like the Michael Ciminos of the world, Clive and Elsa let their ambition get the best of them, and they begin to lose control of the creation, and their minds.
Monster movies like "Splice" are traditionally cautionary tales about the perils of science run amok. Applied to the idea that Clive and Elsa are artistically adventurous filmmakers, that implies a belief that too much experimentation in a movie can be dangerous. That seems like a strange point for a filmmaker to make, and yet the end of "Splice," in which Dren goes on a rather clichéd kill-spree in a foggy forest, essentially reinforces it. Though much of the movie boldly creates a creature that an audience can sympathize with and even, at times, root for against her human "parents," the film's decidedly formulaic ending reverts to a simpler, more mainstream style of filmmaking.
"Splice"'s most frequently repeatedly line is "What's the worst that could happen?" In this case, it might be other studios getting scared away from making horror films as creative as "Splice" by that D from Cinemascore. I'd hate to imagine future horror movies, spliced together from the worst and most obvious bits from existing material, appealing only to our basest needs and containing none of this film's intelligence. Maybe genetic engineers shouldn't take so many risks. But filmmakers definitely should.
[Photos: "Splice," Warner Brothers, 2010]