Disc Covering: "The Stranger," Steve Austin stuns Camus (or not).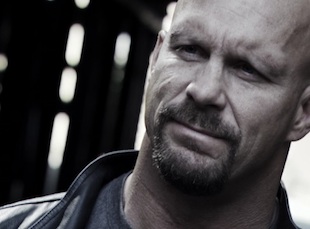 Posted by Matt Singer on
Two men fueled pro wrestling's comeback in the mid- and late '90s. But while Dwayne "The Rock" Johnson, the younger and prettier of the pair, made a smooth transition to the world of movies, "Stone Cold" Steve Austin floundered. He was five years behind Johnson in getting his own starring vehicle, 2007's "The Condemned," a particularly appropriate title given what's happened to Austin's film career since. Now he's gone straight-to-DVD with the title role in "The Stranger," which, frustratingly, has absolutely no relation to the Albert Camus novel.
It's not even inspired by the Billy Joel song. Instead, it's a riff on "The Bourne Identity," yet another tale of a former government operative with flashy fighting skills and no memory of how he got them. The filmmakers better hope their audience have as bad a memory as Austin's character, otherwise they're going to realize very quickly just how much of a rehash this film is.
"The Stranger" (2010)

Directed by Robert Lieberman
Tagline: His Past Was Taken. His Vengeance Is Fueled.
(Question: What does the second half of that tagline mean? Shouldn't it be "His Fuel is Vengeance?" How can vengeance be fueled? And by what? Is vengeance Austin's badass nickname for his car or something?)

Tweetable Plot Synopsis: Steve Austin plays a former FBI something-something who keeps forgetting his (Bourne) identity while running from the law and the mob.


Biggest Success: The quality of Steve Austin's performance as the Stranger is a very pleasant surprise. We've seen this story before, but Austin treats it like the most original and dynamic narrative ever invented by man. By being so invested, he proves himself an honest-to-goodness actor and not just a one-trick pony badass.
Pro wrestlers have to be able to tell stories with their bodies. Austin's physicality is wonderfully expressive, from his wounded eyes to his perpetually balled-up fists. Not surprisingly, he has no trouble pulling off the character's violent side. But beneath his tightly clenched exterior, there's a wounded quality to the Stranger that Austin really nails by drawing on impressive depths of confusion and regret. Let's hope this film portends better things for Austin's film career, starting later this summer with his supporting role in Sylvester Stallone's machismopalooza "The Expendables."
Biggest Failure: If Austin's performance is a major surprise, Adam Beach's performance is a major disappointment. In "Flags of our Fathers," Beach proved himself capable of really outstanding work. In "The Stranger," he proves himself incapable of hiding his contempt for a role that's clearly beneath his talents.
Some actors have a gift for The Schlock Movie Poker Face. The greatest of all time belonged to Vincent Price, who would have sooner eaten his own foot than let on that a movie he was in wasn't exactly an top-notch entertainment. Beach, on the other hand, doesn't just look disinterested in his role, he looks actively disappointed. It's like a fighter taking a really obvious dive: the shame of not giving his best is written all over his face. I don't disagree that Beach deserves better roles than FBI Agent Mason Reese. But so does Austin, and he's giving this thing everything he's got. Beach should have done the same.
Best Moment: Lost in a fugue state, the Stranger goes to a telephone booth at a gas station and calls the only number he can think of: his psychiatrist, Dr. Grace Bishop (Erica Cerra). After a few mumbled remarks, he hangs up and leaves, but not before he's observed by a man filling up his car at one of the pumps. Bishop tracks the Stranger's call to the station, and follows him there. When she arrives hours later, she's able to pick up his trail immediately because the same dude who saw the Stranger is still there filling up his car! Does his car have a record-breakingly large gas tank? Or maybe a record-breaklingly low miles-per-gallon rating? Technically, this shameless narrative shortcut may be "The Stranger"'s worst moment, but it's also its funniest.
Special Features: Besides a trailer, the only extra on "The Stranger" disc is a brief behind-the-scenes featurette. My favorite quote comes from director Ron Lieberman who says, "To me, it was important that it made sense." Everything except the guy who hangs out all day and night at that gas station.
In his interview, Austin states that the film's limited budget gave no extra time to plan and memorize fight choreography, so each action scene had to be invented and staged on set, making "The Stranger"'s competent action beats an even more impressive accomplishment.
Worthy of a Theatrical Release: Nope. While Austin brings an interesting quality to the character, the character doesn't bring an especially interesting quality to the movie. Jason Bourne may have been a tabula rasa, but he had a clearly defined goal. "Memento"'s Leonard Shelby may have been a amnesiac, but he always remembered that his wife was raped and murdered, and he was always trying to avenge her death.
This Stranger guy is simply a wanderer, hopping from one identity to the next with no direction and, most importantly, no purpose. He's got information that Beach and Cerra want buried in his head somewhere, so technically the film should really focus on their characters, but their concerns are basically window-dressing for 90 minutes of competent action beats and some decent hunted-animal acting from Austin without any sense of forward momentum.
And that's the bottom line. And to Steve Austin, I'd just like to say: Don't be afraid to try again. Everyone goes south, every now and then.

For Further Viewing: Watch as Austin invents his Stone Cold character at King of the Ring 1996. Promos like this legendary one transformed his profane arrogant villain character into a profane, arrogant hero character, one of the most popular in wrestling history, all through the sheer force of Austin's charisma.
[Photos: "The Stranger," Anchor Bay Films, 2010]