You should totally see this dark, difficult movie!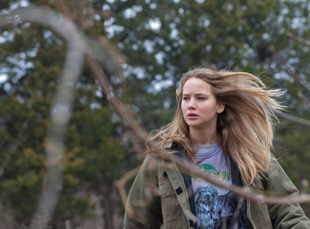 Posted by Vadim Rizov on
Writing about Sundance favorite "Winter's Bone," which Roadside Attractions will release in theaters next week, the LA Times' John Horn hits on all of the usual points that come up whenever a big publication covers a scrappy, genuinely indie film and makes it sound like cinematic equivalent of steamed spinach mixed with shards of glass.
He notes it's based on "an acclaimed but little-read Daniel Woodrell novel" (which describes a sizable chunk of novels turned into films, not just micro-budget indies) and lists its other uncommercial factors, like the "sometimes violent main characters" who "subsist on methamphetamine," and the fact that its teenage protagonist "played by the unheralded actress Jennifer Lawrence." Hey, last time I checked "Alice in Wonderland" starred the unheralded Mia Wasikowska, whose name is harder to spell, and it still made $1 billion.
In any case, the main point of the article is sound. Small distributors have been imploding as fast as newspapers these last few years, yet Roadside Attractions — thanks to a combination of modest overhead (less than $2 million annually), a mere 16-employee staff and some modest hits ("The September Issue," "Super Size Me") — is more or less thriving. As far as it goes with "Winter's Bone," Horn emphasizes that the best part of Roadside's pitch — they beat out six other offers — was their idea of blatant bait-and-switch marketing, making the movie look like a more standard thriller in the trailer:
The result is something that's kind of… dire. With its thudding nu-metal guitars, generic title cards ("between what you see and what you hear lies the truth you're not meant to know" — wait, so the difference between your two senses will uncover the truth?) and general sense of nothing-new-here, there's no glimpse in the trailer of the movie that's been about as universally acclaimed as any Sundance premiere of recent years.
Most interestingly, Horn wonder "whether highbrow moviegoers will patronize an art film in the summer movie season." Well, first they'd have to know it existed, preferably via some means other than the trailer. In that way, the misdirectiony marketing makes sense — the kind of person who's pumped about "Winter's Bone" has already been reading about and waiting for it. You can take those viewers for granted: they'll be there for your Hou Hsiao-Hsiens and your Apichatpong Weerasethakul's as well. These ad dollars are all about seeing who else can be brought in.
But do "highbrow moviegoers" really go into a temporary explosion coma during the summer just like everyone else? In my experience, that's not the case. The real question: how do you bring people into a movie they might conceivably like but would be terrified of if described as, you know, "OH NO NOT METHLAND!" Surely there's a balance to be reached between hiding the true nature of the film and making it sound like a masochistic self-flagellation test.
[Photos: "Winter's Bone," Roadside Attractions, 2010]