Dennis Hopper's unforgettable music.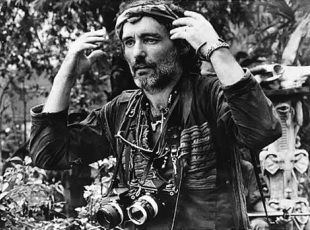 Posted by Brandon Kim on
I'm not going to go into a break down of the highs and lows of Dennis Hoppers career or write a eulogy, I leave that for many others who will continue to do so throughout the week. Suffice to say the dude blew my mind more times than I can count and I'm happy the last film I saw him in was "Elegy" where he so brilliantly delivered the goods. If you've not seen it, you must, but be warned it's not an easy film to watch, however beautiful it is (certainly even less so now for Hopper's part).
We'll all be re-watching Hopper's roles with greater gravity for a while, but I'd prefer to celebrate his work as a filmmaker at the moment. I still find it unbelievable that after debuting as a director with a film as genius as "Easy Rider" that we do not know Dennis Hopper first as a director. Paul Joyce writes in a Guardian piece that I recommend reading, "It was Dennis's great regret that he only achieved eight credits as a director (against over 200 as an actor) and he felt that those talents were badly neglected."
I couldn't agree more, though I'm still so happy we have all those roles to rejoice in, "Blue Velvet," "Basquiat," "Hoosiers," "Apocalypse now," it makes no sense to list them, "The Osterman Weekend," there are far too many, "River's Edge," "Rebel Without a Cause…." But with music on the mind, it's easy to focus on some of Hoppers finest contributions. Specifically, one of his most underrated, the 1988 film "Colors." You know, 70,000 gang members. One million guns. Two cops (Robert Duvall and Sean Penn). This was during the height of late Reagan-era gang violence. Bloods and Crips were all the rage. Hip hop was exploding and people still called rappers, rappers.
Along came "Colors" and just nailed it, shit had cred. Real gangsters, real rappers, fools getting shot and Sean Penn beating the shit out of people on set. The music was awesome then, and I think the use of Ice-T's song, "Colors" during the prison scene where Crips pour in one end and Bloods pour in the other, will forever sum up the absurd reality of inner city urban decay from the period.
And we can't forget other elements of the soundtrack either, like Eric B & Rakim's contribution, "Paid In Full." That song was so hard and so dope, you can still throw it on to this day and just blow a place out. Simply put, it's one of the best songs ever recorded, regardless of genre. Thank you Eric B, Rakim, and Dennis Hopper.

Eric B & Rakim's Paid In Full from the "Colors" soundtrack.
Of course, "Easy Rider" remains the most alluring film to talk about, especially in regards to soundtracks, but there's plenty enough talk about that already. The film and it's music are as much a part of our National identity as a full tank of gas an open road. As much as Dennis Hopper, whose finest works as a director were so brilliantly pertinent to the time in which he made them, they're like time capsules now – with unforgettable soundtracks.