"DeathSpank" Brings the Funny to Downloadable Games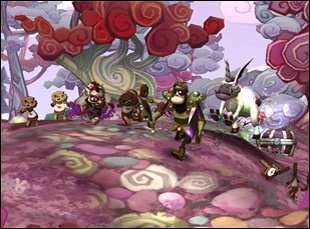 Posted by Evan Narcisse on
Maybe it's the genetic lineage from "Dungeons and Dragons" and J.R.R. Tolkien, but the role-playing genre in video games tends to take itself way too seriously. The trope of the earnest and plucky young lad who ventures forth from a small village into a world-saving destiny gets recycled several times a year with a completely straight face.
Thankfully, the developers at Hothead Games know how ludicrous RPG clichés can be and are all set to lampoon many of them in their upcoming "DeathSpank." When I got my hands on the game earlier this week, the goofiness of it all immediately pulled me in. The gameplay rotates around typical features like side quests, incremental storytelling and upgradeable skills and weapons, but killing evil chickens and bantering with sassy witches make it all feel fresher. Hothead developed the game in conjunction with legendary designer Ron Gilbert – who helped birth the beloved "Monkey Island" adventure games of years past – and that working relationship shines through with every line of bombastic narration in the game. Recently, I got a chance to talk with Vlad Ceraldi, Hothead's director of game development, about working with Gilbert, how digital distribution can be freeing for an indie developer and how Hothead came to work with indie firebrand Jonathan Blow.
You're a really young indie company. What's the secret origin of Hothead Games? How'd you get your start in the industry?
Hothead just had its fourth anniversary, which is hard to believe, but in game developer years, we are a fair bit older — it kind of works like dog years but we are still young and fresh enough that our collective tails are still wagging. Our secret origin is not all that mysterious. Most of us worked and had great success together for seven-plus years at Radical Entertainment. A bunch of us started making games before we joined Radical, so we launched Hothead with a very veteran core team. However, when Radical was purchased by Vivendi Games, we saw the fierce independent nature of Radical start to change.
We also saw the gaming landscape starting to go through massive shifts, or at least the early tremors and signs of major hardship, but also opportunity. We instinctively felt that digital distribution, which was emerging from casual games and starting to affect core games, might allow us to make the games we wanted to make, connect with our gaming audience and give us the independence that we craved.
Talk a little bit about the origins of "DeathSpank." The character first appeared in cartoons on Ron Gilbert's personal Web site, Grumpy Gamer. Were there plans to turn it into a game from the very start?
"DeathSpank" was born from the very creative brain of Ron Gilbert. As you mention, the character began as a spoof of the game industry in a cartoon on his blog. Very quickly, Ron decided that "DeathSpank" deserved to have his own game, one that would be intentionally over-the-top and filled with ridiculous characters and scenarios. Ron shopped it around to all the big publishers and none of them 'got it.' We started working with Ron with our "Penny Arcade" games because we shared the vision that it takes great characters, story and dialogue to make great games.
By the time we finished the first "Penny Arcade" game, Ron gave us the high level design overview for "DeathSpank" and we were sold. It was perfectly aligned with what we wanted to create: a humorous blend of a "Diablo"-like action RPG and "Monkey Island." We worked with Ron and developed characters, a story and world that would best show what the character DeathSpank was all about: a simple, naïve hero with an unprecedented drive to help anyone and everyone he can, often doing more harm than good. We began the project and it really took on a life of its own with everything falling into place.
Hothead has had some success in the digital download space. What kind of freedom does this method of distribution afford you when compared to traditional disc releases?
For now, digital distribution gives developers the opportunity to bring more creative, innovative and risky game ideas directly to gamers. We believe disc-based media is on its last generation and many of the next generation of gaming systems will eschew disk drives altogether. One day soon, all major game releases will be digital, but until then, there is a bit of a Wild West environment for games that still permits a crazy amount of innovation and creativity to take place. Without digital distribution, there is no way "DeathSpank" would have been made.
One of Hothead's big releases was "On the Rain-Slick Precipice of Darkness," which originated from "Penny Arcade," and "DeathSpank" also originated from another medium. Even though adaptations are frowned upon by some, do you think you get away with lighter criticism because things are happening on a smaller scale?
"Penny Arcade" was certainly an adaptation — a well-executed, respectful one of a very established and developed IP. For Hothead, it is all about making great games no matter where the IP comes from. We made the "Penny Arcade" games because we knew they would be fun and that the fans wanted these games made.
"DeathSpank" was a natural fit and we felt it had to be made into a game. From our experience, you only get criticized if the game sucks — [if] the effort is not genuine or inspired. With "DeathSpank," while it is true that the character and concept were born on a blog, "DeathSpank" is not an adaptation but rather a vision fully realized.