Why do cult comedies have such trouble in theaters?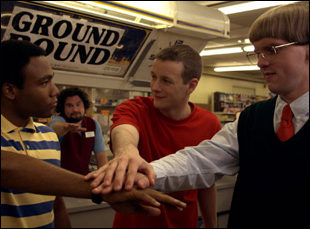 Posted by Stephen Saito on
When "Mystery Team" opened in August of last year, I wondered aloud whether the DERRICK Comedy troupe could build on their following from YouTube to lure audiences in to see their very funny comedy on the big screen. As full-capacity screenings over the weekend in Los Angeles proved, they could — to some extent. As far as the film's theatrical run, things never quite kicked into second gear.
What was mildly depressing as I stood in the long line in front of the New Beverly Cinema was the fact that "Mystery Team" is part of a breed of films that usually enjoys success only when they hit home video and cable, despite the fact they play best with a huge crowd. (Not so coincidentally, these screenings coincided with the film's DVD release.) There was, of course, an irony to Donald Glover shouting "Let's get krunk!" before the film started to roll, but also an appropriate temperature taking of the room as it was about to get krunk indeed.
Full of increasingly familiar faces like "Parks and Recreation"'s Aubrey Plaza, "The Office"'s Ellie Kemper and "Saturday Night Live"'s Bobby Moynihan, "Mystery Team" is far from the one-note affair it appears as on paper. The premise is simple: a group of overgrown kid detectives (Glover, Dominic Dierkes and D.C. Pierson) used to helping find cats are faced with something considerably more daunting when they're asked to solve a murder. The trio refuse to let their innocence be corrupted as they naively find themselves in strip clubs and crack dens in search of the killer. The trailer:
The film has its share of gross-out humor to make the most of its adults-in-kid-bodies scenario, but it also cleverly builds upon its gags, both with wordplay and with visual touches, in a way that will surely play well for friends huddled around TVs and computer screens yet become transcendental when seen at a movie theater.
As HitFix's Drew McWeeny wrote when he interviewed DERRICK's Dan Eckman, Dierkes and Pierson recently, these guys did everything but pop the popcorn to try and attract people during "Mystery Team"'s half-year run around the country, and their distributor Roadside Attractions came up with what seemed like a savvy distribution strategy to target college towns where interest should've been high.
Still, the daring of both the filmmakers in making a genuinely amusing and audacious debut and the distributor in trying something different wasn't rewarded. And this trend isn't limited to indies — although "MacGruber" broke the mold with an unapologetically nasty send-up of '80s action flicks that was more fun than it had any right to be (though Matt Zoller Seitz disagreed, as did A.O. Scott, who refuses to believe the movie exists), it won't come close to making its money back theatrically (after advertising is tacked on) despite a relatively paltry $10 million price tag.
Movie City News' David Poland suggested "MacGruber" might've been a perfect test case for a day-and-date release on VOD, which would seem to be the future of the genre, as it is with most other films that can't afford and can't explain their appeal in a 30-second TV spot. (When it comes to marketing comedies, Fox Searchlight has no peer, but even they might be in for a tough haul with "Cyrus," the Duplass brothers' shaggy laffer. The film boasts recognizable stars in Jonah Hill, John C. Reilly and Marisa Tomei, but has taken to the streets with "Don't F**k My Mom" T-shirts which repeats one of the film's funniest lines, yet doesn't exactly convey the thoughtful, mature romantic comedy it actually is.)
Strangely, this apathy towards feature comedy comes not only as sitcoms and sites like Funny or Die are thriving, but as some of the most assured and innovative voices in years are starting to make their mark in movies. Besides the Apatow gang, which has "Get Him to the Greek" coming out this week and will produce The State alum David Wain's next feature "Wanderlust," you've got directors like the Duplass brothers, Nicole Holofcener ("Please Give"), Armando Iannucci ("In The Loop"), Jody Hill ("Observe and Report") and Alex Holdridge (recently tipped for Fox Searchlight's buzzed-about comedy "The F-Word" after the impressive "In Search of a Midnight Kiss") making smart, appealing comedies that are appreciated long after they leave theaters.
Not all of these filmmakers would be considered cult per se, but they have found audiences, even if it's on Netflix since they've got the goods, although the dwindling interest in discovering them on the big screen is no laughing matter.
[Photo: "Mystery Team," Roadside Attractions, 2009; "Get Him to the Greek," Universal Pictures, 2010]