Cory Edwards will have his revenge on the Weinsteins.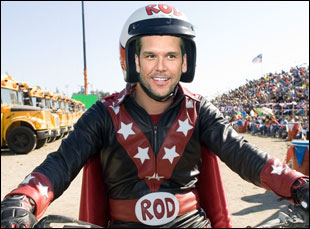 Posted by Vadim Rizov on
With studios in financial bunker mode, the internet is becoming a punchy place not just among critics, but among jilted filmmakers as well. When "Anchorman 2" wasn't greenlit earlier this year, someone started a fake Twitter for Paramount that said things like "Instead of funding Anchorman 2 we are doing a reboot of Hot Rod starring @danecook to be written & directed @andydick for release next year!"
We've come a long way from the days when directors who wanted to be heard (without journalistic help) had to spend money to do so, as when Terry Gilliam took out a full-page ad in Variety reading "Dear Sid Sheinberg: When are you going to release my film, 'Brazil'?"
Which brings us to the strange tale of Cory Edwards, picked up first by /film. Edwards wrote and directed "Hoodwinked!," the cheap-looking but surprisingly profitable 2005 animated hit that got the Weinstein Company off to a deceptively good start.
Edwards has stayed within the fold since then; he was one of the legions who tried to get the "Fletch" franchise rebooted (as detailed by EW in an article you must read if only to see Kevin Smith being incredibly bitter about Harvey Weinstein), and of late he was working on a "Fraggle Rock" movie.
"Fraggle Rock" is one of the less lovable products of the original Jim Henson studios, a musical show aimed at the very young (or very stoned) in which various various brightly colored cave-dwelling scamps sing forgettable songs. Design-wise, some resemble the creatures from the land of Gorch that listlessly staggered through the first and second seasons of "Saturday Night Live." Yet "Fraggle Rock" has a cult following (what doesn't?) and Edwards has been struggling towards bringing it to the big screen.
Or was trying to. On his blog on Monday, Edwards threw down the gauntlet, sniping that the Weinsteins had cut him out and were looking for a new screenwriter to make the script "edgy." "If you only knew the horrible, horrible treatment I have received in the last six months from that studio, you'd be embarrassed by your assessment of 'reality,'" he writes in the comments. "[I]t's not 'biting the hand that feeds you' if they stopped feeding you a long time ago."
That's a long way from Edwards' vague earlier bitching like "Maybe he needs to get some movies out into the market fast now? Harvey, call me." And it's certainly a long way down from the heady days of February of 2006, when Edwards began his blog glowing over "Hoodwinked!" passing $50 million and contemplating writing "an all-mime musical." (The blog's quite funny, by the way.)
The internet, then, has begun to take on an unexpected and heartening function, becoming a free way for directors — once kept safely behind the scenes — to build up sympathy and support for themselves, or for the projects they're like to get made. (No one ever sympathizes with the studio.)
Whether or not this will ever translate to real world action remains to be seen — the internet has yet to really save a movie the way it's saved certain TV series from being canceled. Either way, it'll make for spicy reading.
[Photos: Theoretical Dane Cook version of "Hot Rod," Paramount, 2007; "Fraggle Rock," Jim Henson Television, 1983; "Hoodwinked!," Weinstein Company, 2005]