"Confessions": War may be hell, but it has nothing on high school.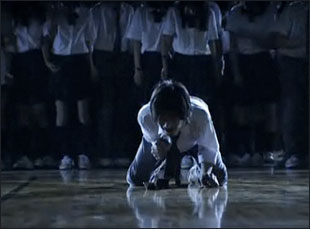 Posted by Alison Willmore on
Reviewed at the 2010 New York Asian Film Festival.
"Confessions" is the latest from Tetsuya Nakashima, who in 2006 made "Memories of Matsuko," my absolute favorite of the films I've seen over the years at the New York Asian Film Festival. "Matsuko" was all about the gaping divide between its peppy musical numbers and frenetic, "Amelie"-bright visuals and what was in fact a wicked downer of a tale about a fallen woman who keeps falling and falling and falling until she dies, all but forgotten.
In "Confessions," the visual stylings are even slicker, somewhere between a high-end music video and "Fight Club"-era David Fincher, but all glimpses of humanity has been leeched away. Misery is everything.
The film opens on a rowdy 7th grade classroom, where kids are sipping on what the teacher explains is milk provided by a potential government campaign. One boy is being blatantly bullied, some have left mid-lecture and are hanging out on the roof, others are openly on cell phones or talking with their friends. Their teacher, a serene thirtysomething named Yuko Moriguchi (Takako Matsu), is used to being ignored — and she knows she's about to get their complete attention. She's talking about how she's quitting teaching at the end of the month, how the death of her young daughter, who drowned in the school pool, has affected her, and, dropping that other shoe, how two of the students in her classroom were responsible for murdered the little girl.
Oh, and she put something in their milk.
Moviewise, I can't think of another country that consistently looks at its own youth with the complicated mixture of mistrust, fear and compassion that Japan has, in titles like "All About Lily Chou-Chou," "Battle Royale," "This World of Ours" and "Suicide Circle." "Confessions" is downright brutal to its class of 37 teens, on whom puberty is shown to have descended like a season of madness.
They're entitled, they're cruel, they're despairing, they're lonely, they're angry, they're disturbingly detached, they're in some cases downright sociopathic. They don't exactly inspire faith in a future generation. Then again, the adults don't come off so well either.
Though Moriguchi departs after unveiling her truth to the class, she hovers on the outskirts of the narrative, using the children as tools in her quest for vengeance. Her revelation, her "confession" — she never names the two boys who killed her child, but gives enough details about them that their identities become immediately evident to their classmates — makes one of conspirators the target of savage bullying and harassment and drives the other one into withdrawal in his room. Manipulating the earnest young teacher who's replaced her, Moriguchi feeds the flames of the pair's persecution until they burst, unleashing violence against the only people who care for them.
"Confessions" is a murder mystery without the mystery — after the long first sequence, we and most of the characters in the film know exactly who did it, even if they're apparently sheltered by juvenile legal restrictions that make prosecution pointless.
The twists that come are ones of motivation and perspective, as the narration shifts to the shy class president who dreams of death, to the mother who pins blame for her child's actions on anyone but him, to the shut-in who refuses to bathe because the scent of his own filth reminds him he's still alive, to the would-be genius ready to commit atrocities in order to get the attention of his estranged mother.
"Confessions" is breathtaking in its ruthlessness, though that also means it's emotionally distant — stuffed with social issues like bullying, youth suicide, hikikomori and school violence, it all starts to seem extremely dysfunction junction. Moriguchi's no heroine — inarguably and terribly wronged, she nevertheless pursues as ruthless a revenge as she can manage against the culprits, unencumbered by any sense that they deserve special consideration because they're only 13 years old.
Given the unhappy home life of one of the boys, the ending's shrugging off of any possibility of redemption seems awfully grim. At what age should people be held completely accountable for their own awfulness? And what of the collateral damage that occurs, the (semi) innocents who end up as part of the body count?
But perhaps that's the point — the film, which is frequently shot in the cool greys and blues of a world (Moriguchi's world?) permanently drained of color by trauma, is one in which inflicting pain seems the only surefire means of communicating your own suffering.
You can be alone in your own personal hell, and yet elsewhere the sun is shining, the trees are blossoming and the girls running through puddles, happy to be free for spring break. What a beautiful world, and what incredible ugliness can be found in it.
"Confessions" does not yet have US distribution. It screens July 1st and 4th at the Japan Society in NY.