"Circo," small lives under the big top.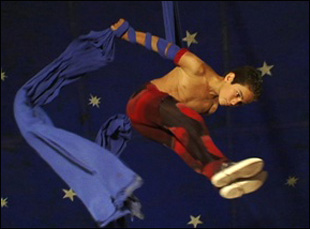 Posted by Stephen Saito on
Reviewed at the 2010 Los Angeles Film Festival.
Of all the death-defying stunts performed by the Ponce family in "Circo," the most impressive may be keeping the family business alive. Tied up in tradition more constrictive than the chains that their teenage Cascaras finds himself trying to loose himself from for the benefit of a half-filled cheering section, the Ponces are descendants of a once-strong clan of traveling circus performers. Circo Mexico, led by the indefatigable ringmaster Tino Ponce, is presented as the only example of that 100-year-old entertainment legacy to still draw a crowd as they traverse the small towns and villages of rural Mexico.
It's no wonder director Aaron Schock centers his film on Tino, not only for Tino's hard-earned charisma, but also given Schock's own insistence on having no crew to help him shoot "Circo." While Schock would have his hands full with a boom mic and a camera, Tino is similarly swamped with announcing Circo Mexico's arrival in town, tending to the small collection of tigers and putting on his helmet to ride a motorcycle in the "Globe of Death."
Tino doesn't bitch about having so many responsibilities, only the rising taxes and costs of renting spaces to perform, despite the fact he labors under the thumb of a shadowy father who mainly collects money at the door, and constantly bickers with Ivonne, the long-suffering mother of Tino's children who is always complaining about that father's take.
Speaking of Tino's tykes, they can mostly be seen doing backflips or performing practical tasks like scaling electrical poles to filch some power; when Tino remarks at one point, "Your obligation as a father is to train your kids," you're not entirely sure if he's talking strictly about life or the circus. Later, when one of the children tells him, "We're just employees," his appeal is "We're artists of the circus."
If that can be construed as having the potential for child abuse, Schock doesn't discount it, showing the different paths of some of Tino's relatives who have found lives outside the big top after either burning out or discovering something more interesting. However, the key detail "Circo" gets right is a sense of pride that carries the Ponces, and primarily Tino, through the personal and professional problems that could rip the family apart at any minute.
Though aided by a vibrant but occasionally over-aggressive score from Calexico, "Circo" isn't exactly crackling with excitement on its own, but more of a slow burn that tiptoes around the grounds of whatever temporary locale the circus has set up in. It picks up the long-held resentments between the older family members, the burgeoning romances of the younger ones and the absolute commitment of all to keep their way of life from going extinct.
One shouldn't expect Schock to give it new life with this film, but "Circo" does far more by preserving Circo Mexico's place on the cultural map even if it's fast disappearing from the geographical one.
"Circo" does not yet have U.S. distribution.