Christopher Nolan: No 3D, no cell phone, lots of diagrams.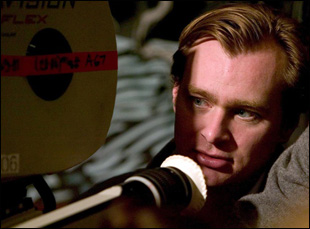 Posted by Stephen Saito on
"I don't have e-mail, a cell phone…it gives me more time to think," said Christopher Nolan, which might've been the greatest revelation from his appearance at this weekend's inaugural Los Angeles Times Hero Complex Film Festival. His admission came in response to a question about online chatter concerning his films, though it was evident others are keeping track of his tight schedule, as he stopped by for a 45-minute chat with the Times' Geoff Boucher during a break from the dub stage for "Inception."
Although the talk was sandwiched between a double bill of "Insomnia" and "The Dark Knight," the subject quickly turned to his latest film. There was a wave of excitement when the end credits of "Insomnia" led directly into an MPAA green band, which proved to be the beginning of "Inception" trailer #3, which is available online. Shortly after, Nolan was greeted with a standing ovation as he made his way to the stage and after a question about Robin Williams' performance in "Insomnia" — which the director called "flawless" and considered himself lucky that it came out before "One Hour Photo," even though "Insomnia" was shot later — Boucher started in with questions about this summer's most anticipated film.
"I've wanted to make a film about dreams since I was a kid," Nolan told the audience and mentioned that he pitched the film to Warner Brothers right after finishing "Insomnia." He gave a basic synopsis that largely resembled his recent comments to Empire magazine, about a team of extractors that can steal information from the mind. "I thought it would take months, but it took me 10 years," said Nolan about the writing process that followed.
While he conceived of "Inception" as a heist film, he couldn't complete it since he felt "heist films tend to be deliberately superficial," a problem he knew was solved by the casting of Leonardo DiCaprio, of whom he likened to Guy Pearce in "Memento" with his ability to "find the emotional truth of the character." (When Boucher brought up that six of the eight actors whose names appear on "Inception"'s poster had been nominated for Oscars, Nolan got a laugh when he shrugged, " I hadn't noticed actually…it's an incredible cast." He also got a rise out of the audience when he said he screened "Pink Floyd's The Wall" for cast and crew right before shooting for inspiration and "it was shocking to everybody"; he's presenting the film next week at the L.A. Film Festival.)
But Nolan didn't have a hard time winning over the discerning fanboy crowd. He championed practical effects, which he used extensively in concert with CG for "Inception," explaining that he learned on "Batman Begins" that effects artists need something to start out with. After doing tests with a digital Batman, he thought most of the audience could be fooled, but he wasn't. ("I could tell. [The artists] weren't real happy, but it was incredibly close.") He continued, "If you can photograph something real…they're able to do much, much better work."
Nolan also appeared disinterested in discussing 3D, though he couldn't help but give a well-reasoned response to why "Inception" is one of the rare summer blockbusters to elude the treatment. "I'm not a huge fan of 3D," said Nolan to the cheers of the audience before mentioning that he did tests with post-conversion. "They looked good, but they wouldn't have the time to get up to my standards." Taken out of context, those comments might appear that he was flirting with the process, but he continued, "I find the dimness of the image extremely alienating" when projecting a 3D film and mentioned the "enormous compromises" he would have to make like shooting on video first to accommodate the 3D process. He left a door open when he said "post-conversion would be the future" for him personally, if he were to make a 3D film, and acknowledged that "audiences will decide" 3D's fate, but seemingly shut it when he said in a later answer, "I find it impossible as a viewer to forget I'm watching a movie [in 3D]."
He also took questions about his involvement in "Superman" ("I thought [David Goyer's] pitch was terrific and I didn't want it to not get done," but stressed he was only a producer on the project) and dished a little on "The Dark Knight," saying there was a direct connection to Richard Donner's "Superman" to his take on Batman: "I wanted to make the Batman film that would've been made in '78, '79…[Warner Brothers] never did the Dick Donner version of an extraordinary person in an ordinary world" with an esteemed cast filling out the supporting roles. Boucher also prodded Nolan to talk about his favorite scene of "The Dark Knight" — the Joker's interrogation sequence, which he made distinctive with bright lighting and wanted near the beginning of the film — and its incredible financial success in comparison to "Batman Begins," which Nolan believed "suffered from a lot of suspicion of the franchise" with audiences at first, but allowed for "the massive benefit of showing what you can do with the character."
Comic book writer Ed Brubaker was in the audience and asked Nolan about his writing process and whether how much he outlines his screenplays, to which Nolan responded he doesn't use outlines, but "I draw a lot of diagrams. It all gets a bit 'Beautiful Mind.'" He also writes in a linear fashion and always plans to do rewrites later to "make it flow." "It's almost like you write a bunch of dailies and edit it into a more comprehensible form."
[Photos: "Inception," Warner Bros., 2010; "The Dark Knight," Warner Bros., 2007]