Cinematic destruction finally comes to Chicago.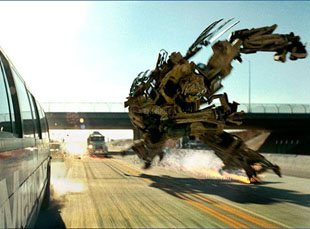 Posted by Vadim Rizov on
A friend of mine posed a serious question to me the other night: how can people still make disaster movies when we've already blown up all the world's landmarks twice over? Really we have two men — Roland Emmerich and Michael Bay — who share a vision, one no less personal than those of Ozu or Cassavetes. These two men have sworn to give the public what we want and deserve: an aggregated portrait of the entire world's destruction, one minor apocalypse at a time.
And so, finally, Chicago will at last get the cinematic drubbing it's been asking for, as "Transformers 3" will be shooting in the city this summer.
Why should New York and DC take all the pain? God has a plan for the destruction of liberal enclaves, of course (using the kind of logic Pat Robertson and the late Jerry Falwell employed), and why should Chicago be immune from his wrath?
The announcement was made at a press conference Wednesday co-starring "Transformers 3" producer Lorenzo di Bonaventura and Chicago mayor Richard M. Daley who, when asked about the potential for "mayhem," responded with a plea for understanding if "street closures or other potential problems" ensue.
Chicago hasn't escaped completely unscathed, movie destructionwise. The Chicago Tribune's Christopher Borrelli takes a fascinating look back at how "The Blues Brothers" blasted the city wide open for constant productions after the death of Mayor Richard J. Daley (father of the current mayor) who distrusted filming and was unwilling to close down streets or extend police assistance.
"The Blues Brothers" blew threw in spectacular fashion, with cars being driven through windows in Daley Plaza. Since then, cars have flipped over for "The Dark Knight" and courtesies have generally been extended; Daley estimates that over 900 films and TV productions have pumped $1.6 billion into the area since 1989.
Nonetheless, it's a little funny to see Daley getting mildly defensive about welcoming Michael Bay to blow up Chicago — a city that hasn't really and truly been destroyed on-screen since 1937's "In Old Chicago," a fictionalized take on the 1871 Great Chicago Fire, probably because it doesn't have iconic landmark buildings that translate outside of the U.S. Not that that would stop Michael Bay.
[Photos: "Transformers," Paramount, 2007; "The Blues Brothers," Universal, 1980; "In Old Chicago," 20th Century Fox, 1937]