Catskill Mountain Performances: White Rabbits, The Silent League, Common Prayer.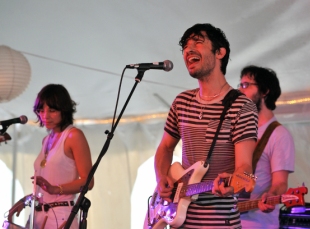 Posted by Brandon Kim on
The Truck festival has been kicking in the UK for 13 years now, but just found it's way to America this year. Like it's kindred UK shindig, ATP, it began as an alternative to the big corporate festivals like Glastonbury which has apparently become synonymous with douche bag (Pip pip, watch that one guv, he's a Glastonbury).
[Common Prayer performing at Truck America. Photo by Sonam Zoksang.]
Right. And like other respectable festivals this inaugural Truck America took place upstate NY, in the Catskills – home of noise rock legends, Mercury Rev, who headlined the proceedings with a chamber orchestra. On a side note one of my all time best music listening experiences occurred in the back seat of a Saab with Mercury Rev's Yerself Is Steam album on a cassette tape, cranked to 11.
Check out these intimate mountain performances from the festival. You might know Brooklyn's White Rabbits, here playing "The Company I Keep."
These other two bands, both feature former Mercury Rev players, and brothers Justin and Jason Russo. Justin with friends from Beirut and Arcade Fire, known here as The Silent League perform "Glass Walls." Jason (also founder of Hopewell), Alexandra Marvar and pals perform "Us vs. Them" atop a van as Common Prayer.