"Catcher in the Rye" has (sort of) already been made into a movie.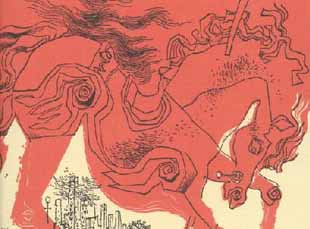 Posted by Vadim Rizov on
J.D. Salinger's "The Catcher in the Rye" has for near on 60 years now been winning over legions of teenagers who, reading it, think to themselves "I am Holden Caulfield." Along with "Slaughterhouse-Five," it's a staple of teen alienation reading (and freshman English classes). In the horse race of youth unhappiness literature, "The Bell Jar" seems to have lost ground at some point.
Louis Menand once speculated in the New Yorker that most teachers hope to use the novel to communicate that "alienation is just a phase," but I've always suspected kids love it because it addictively contextualizes and makes teen anomie seem smarter than it usually is.
Over at Salon, Matt Zoller Seitz runs through some of the reasons Salinger's most popular novel should never be a movie. These include Salinger's grudge against the film industry, partly stemming from a failed relationship with Eugene O'Neill's daughter. The big point is fascinating — that Salinger's antipathy towards an adaptation was so well-known that the book comes with the implicit promise that you'll never have to measure your experience with it against a filmed version — it'll be a perpetually personal experience.
But I'd argue "Catcher in the Rye" is already a movie. I'm not talking about Wes Anderson's admitted debt to Salinger's work, populated as his films are with over-intelligent upper-class misfits. Class is key, something angry adolescents tend to gloss over. For better or worse, 2002's "Igby Goes Down" is almost a straight adaptation; how Burr Steers didn't get sued for his tale of a young snot hiding out in the city (for months rather than days) and brooding is beyond me. The details are his, but the contours are straight Holden — boy vs. world, floating through an undiagnosable disaffection.
I dig the movie, which, as a portrait of teen angst, is pretty sharp. "Igby" gives its titular protagonist (Kieran Culkin) a brother in the form of the peerlessly pompous Ryan Philippe, who Igby absolutely despises. In flashback, though, we learn that Philippe's character is just as scarred by their dad's mental breakdown as Igby, but has learned to deal with it in ways other than drug abuse and being a jerk to everyone.
It forces a sense of perspective into the narrative. "Catcher" seems unfilmable because — as Salinger wrote a producer — the trick's in Holden's language and the way he "can't legitimately be separated from his own first-person technique." Language makes bearable what could just be one massive snit; to film it (as "Igby" more or less does) requires more forceful narrative measures.
"Igby" is sensitive to class (and dispenses with the time setting altogether — another problem, since it's hard to see a new movie willing to think hard about the post-WWII context and how it shapes Holden). It also drove some reviewers off the wall because it's unbelievably bratty if you're not sympathetic to its main character's travails — the worst-case scenario of an adaptation, flattening Holden into just some whiny upper-class kid railing against nothing.
[Photos: "The Catcher In The Rye," Little, Brown, 1951; "Igby Goes Down," MGM, 2002]