"Bodyguards and Assassins": The revolution will be verbalized.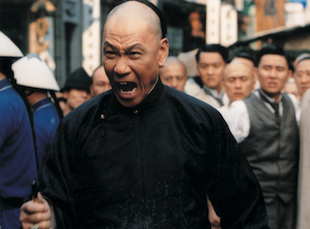 Posted by Matt Singer on
Reviewed at the 2010 New York Asian Film Festival.
For its first languid hour, the extremely talented cast of "Bodyguards and Assassins" lecture each other about the importance of the Chinese Revolution. No one speaks to anyone else; everyone just stands around giving speeches. Once they've made their point at great length, we're treated to an extremely well-crafted and thrilling chase and fight sequence through the convincingly recreated streets of 1900s Hong Kong.
The two parts are so different, it's hard to believe one director, Teddy Chan, made both of them. Watching this movie, I was reminded of the schemes my parents would dream up to get me to do my homework: sit through this boring lesson about Dr. Sun Yat-Sen and you can watch this awesome martial arts movie.

Sun is known as "The Father of Modern China" for his role in bringing about the end of the Qing Dynasty. In "Bodyguards and Assassins," he's on his way to Hong Kong for a strategy meeting with leaders from all over China, but the Emperor learns of his plans and sends his men to intercept and kill him.
Once Sun arrives, it's up to a group of revolutionaries led by newspaper editor Chen (Tony Leung Ka-fai) and bankrolled by businessman Boss Li (Wang Xueqi) to distract and delay the assassins by drawing their attention for one hour. Chen and Li put together a "Dirty Dozen"-ish team of misfits to the suicide mission, including a former Shaolin monk turned tofu chef (former NBA player Mengke Bateer), a beggar who was once a martial arts master (Leon Lai) and a disgraced policeman (a sadly underutilized Donnie Yen).
Along the way, the characters articulate their perspective on the revolution: how it will will create a world in which everyone is equal, and how it will use the sacrifices of an older generation in exchange for the well-being of the next, and how it requires the unity and national pride of all Chinese. Regardless of what you think about the message, the problem's the painfully blunt way "Bodyguards and Assassins" delivers it. The chase sequence has moments of beauty and power which only make the earlier talking even more redundant. When people are sacrificing their lives for a cause, we don't need them to tell us how important it is. Their actions tell us for them.
Even disregarding their very different tell-then-show strategies, the two halves of the movie make strange bedfellows. The first part aims for an almost documentary-style recreation of what life was like for these turn-of-the-century Hong Kong revolutionaries. But something tells me the second part — which includes free-running, wirework and a hobo with magical martial arts powers — deviates ever so slightly from the historical record. It would take someone with a cold, cold heart not to enjoy a film about kung fu revolutionaries, but it would also someone with a very patient mind not to be turned off by the rampant speechifying.
"Bodyguards and Assassins" screened Sunday at NYAFF as part of a double feature with "Development Hell," which was billed as a documentary about "Bodyguards"' troubled production but is really more of a meandering tour through the trenches of Hong Kong cinema. There are plenty of details about previous iterations of the project that were cancelled are provided, but "Development Hell" is still frustratingly incomplete.
It ends on a cliffhanger — will the film ever get made? I wonder… — and is padded with tons of irrelevant anecdotes from industry types. I could tell you everything you need to know about "Development Hell" in three minutes; it takes the movie fifty-five. Essentially, it suffers the same problem as the film its chronicling: it overstays its welcome and overstates its importance.
"Bodyguards and Assassins" does not yet have US distribution. It plays Tuesday, June 29 at 1:00 PM at the Walter Reade Theater in New York City.
[Photos: "Bodyguards and Assassins," China Film Group, 2009]