"Bitter Feast," a horror flick for foodies.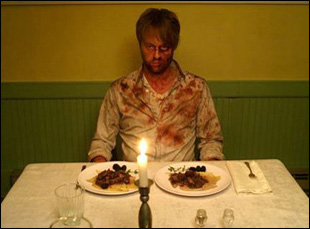 Posted by Stephen Saito on
Reviewed at the 2010 Los Angeles Film Festival.
During the post-screening Q & A for "Bitter Feast," writer/director Joe Maggio declared himself not a fan of torture porn. But with all those butcher knives around, who could blame him for getting a little grotesque in telling the tale of a world-class chef who chains up a food critic in his basement after a particularly nasty review?
What separates "Bitter Feast" from most entries into that particular genre are the great lengths Maggio goes to show that both men were in dire straits long before any shackles were administered. Nearly 20 minutes pass before the film's title card comes up, a prologue in which we see flashes of Peter Grey (a bearded James LeGros), a detail-oriented chef with a cooking show on the brink of cancellation and a career at a four-star restaurant over after a poor review from influential food blogger JT Franks (Justin Leonard). Yet Grey's been through worse — as a kid, he fended off his brother's roughhousing in the woods once by jousting a nearby spear into his neck, and was never caught.
Of course, Franks probably didn't know this when penning his review of Grey's Feast restaurant for Gastropunks, a site where 40,000 foodies show up daily to read which new high-priced eatery he deems "vomitous." His wife (Amy Seimetz) wonders aloud, "how can you write this shit?" to which Franks responds, "just playing my role," before comparing himself to wrestling bad guy The Iron Sheik. He, too, has his reasons to be taciturn; Franks' son died of leukemia two years earlier, and his wife's entreaties for another child only further irritate him.
A retreat into the country might sound like an opportunity for both men to clear their heads, but when Grey seizes Franks from the streets of New York to repair back to the same woodsy home that bore witness to his last murder, it isn't a picnic for either.
Which is not to say there isn't food involved — as Franks is bound to a wall, he's presented with a series of culinary challenges by Grey, like cooking a perfect overeasy egg or a medium rare steak, while Grey taunts him with his reviews that questioned others' ability to do so. There are no Rube Goldberg contraptions around to punish Franks if he can't fulfill the task, but when the yolk runs out on the aforementioned egg, Grey finds that an iron skillet can be used for other means than cooking.
This is where the smarts in Maggio's screenplay come out, brought to life by a reserved LeGros and a devious Leonard. The tête-à-tête between Franks and Grey is invested with a sense of authenticity to back up its original spin on a well-worn premise. The culinary motif is no mere window dressing, but rather a clever way to show how what once was so beautiful to both men could become so ugly.
Although the film is somewhat betrayed by a third act where the action shifts away from the cook and the critic to the search for Franks by his wife and a private investigator (Larry Fessenden, who also produced through his Glass Eye Pictures banner), it's not enough to spoil "Bitter Feast," even if some of the complementary flavors threaten to overwhelm the whole.
There was significantly less suspense in discovering that Maggio used to work in New York kitchens and stumbled upon the plot for his latest while reading an unfavorable Frank Bruni review in the New York Times of Gordon Ramsay's London Hotel, in which Bruni said the restaurant lacked "excitement," in turn leading Maggio to wonder what a hot-headed Ramsay would do to Bruni if he ever got his hands on him.
The hot topic of the post-screening Q & A, however, was how Maggio collared another celebrity chef, Mario Batali, to play a key cameo in "Bitter Feast" as the restaurant owner who first shows Peter Grey the bad review. As it turns out, Fessenden's kid attends the same West Village school as Batali's, and as Maggio remembered, an event at the school brought out all of the parents.
It led to what Maggio called "the Larry David moment" of whether or not to approach the chef. While Fessenden remained mum on the details, the actor/producer did say "I sort of imposed myself on Batali" to get the cameo and even built the film's production schedule around him, saving an extra day of shooting in the fall, even though "Bitter Feast" was mostly shot in the summer.
"It was the kind of exciting freefall we like to do at Glass Eye Pictures," said Fessenden.
"Bitter Feast" will be released in the U.S. by Dark Sky Films.
[Photos: "Bitter Feast," Dark Sky Films, 2010]