Battle of the biopics: Eight rival pairings of movies about the same person.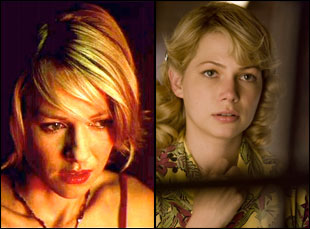 Posted by Vadim Rizov on
Sometimes, be it chance, convergence or studio groupthink, interest in making a movie about the life of a public figure re-explodes, and multiple biopics about him/her go into development to capitalize on that interest. Most of the time, one of the parties involved backs down and the victor emerges with no competition. But occasionally, two films emerge in close proximity to another.
Lately, this has been happening a lot: there are rival Marilyn Monroe movies slated for production, with Naomi Watts and Michelle Williams slated as leads, double Miles Davis biopics, three-deep DeLoreans. Most of these movies will never actually be made. Here's a look at seven such notable cinematic point-counterpoints that actually hit theaters:
"Coco Before Chanel"/"Coco Chanel & Igor Stravinsky" (2009)
There have been four films about fashion designer/legend Coco Chanel so far, and not a single one has yet had the guts to delve into World War II and try to reconcile her status as a fashion icon with her years as a Nazi collaborator, SS contacts and all. 1981's "Chanel Solitaire" is noted (if at all) as Rutger Hauer's first English-language movie; the 2008 TV movie with Shirley MacLaine was chided by the New York Times' Gina Bellafante for how it "hopscotches right over Chanel's unsavory wartime affiliations." So, too, does last year's "Coco Before Chanel" (how could adorable Audrey Tautou be up to anything so awful?) and, by default (their affair ended long before World War II), "Coco Chanel & Igor Stravinsky," which opens this week. And they might as well keep making Chanel biopics until someone works up the nerve to include that particular factoid.
"Bathory" (2008)/"The Countess" (2009)
It's entirely unsurprising that Erzsébet Báthory, a Hungarian countess who supposedly had hundreds of young girls tortured and killed in order to bathe in their blood (believing it would restore her youth), has been a popular figure in films over the years. Is there a handier, gothier metaphor for our aging-averse, product-obsessed culture? Anna Friel vamps as the titular aristocrat in the 2008 "Bathory," the most expensive Slovak and Czech production of all time. A revisionist take on the legend from director Juraj Jakubisko, the film drops a historically inaccurate Caravaggio into the mix and suggests Báthory was actually a tragic victim who was framed by the power-hungry men in her life. She only killed a few people, y'all, not hundreds! And she was on drugs at the time! The following year's "The Countess" was written, directed by and stars Julie Delpy — a dream project of the hers for years, it by all accounts offers a feminist spin on the Bathory legend, delving into the woman's psychology while leaving the verity of her many murders up in the air. "Bathory" remains without U.S. distribution, while "The Countess" was picked up by Empire Film Group last year for an announced Oscar push that never happened.
"Capote" (2005)/"Infamous" (2006)
The Truman show shoot-out of "Capote" and "Infamous" was not the first time Douglas McGrath's work had run into unflattering comparisons with a similar movie preceding it. His 1996 adaptation of Jane Austen's "Emma" was considered wan and lacking when juxtaposed with the clever updating of the same novel in "Clueless." "Infamous" didn't perform as well as "Capote," although probably because seeing Toby Jones (best known as, well, the voice of Dobby the House Elf in the "Harry Potter" movies) slink into the famous Truman Capote voice didn't have quite the same sense of showmanship as seeing Philip Seymour Hoffman do the same. In fact, most reviews agreed that the two films were basically worthy of each other, just covering the same material from different sides; I particularly like Kenji Fujishima's suggestion that watching the two is like "differentiating between two conductors' interpretations of one particular work."
"Prefontaine" (1997)/"Without Limits" (1998)
Two movies about Olympic runner Steve Prefontaine that bombed independently of one another, both "Prefontaine" and "Without Limits" represented big ventures for their directors. "Prefontaine" was the first post-"Hoop Dreams" project for director Steve James, and its failure didn't discourage him: he made two more sports-based TV movies (1999's "Passing Glory" — black vs. white high basketball teams in the '60s — and 2002's "Joe and Max" — Louis and Schmeling, respectively) before getting back to what he does best. 1998's "Without Limits" was only the third film legendary screenwriter (and highly paid script doctor) Robert Towne ("Chinatown") had managed to get made, and it too flopped — as would the careers of their two respective stars, Jared Leto and Billy Crudup, neither of whom ballooned up into the acting A-list as promised. Both movies were admirably focused on pointing out what a difficult, uncoachable jerk Prefontaine could be, and both received respectful if lukewarm reviews. There's a great moment in "Limits" when Crudup is interrupted mid-first-time coitus, is asked if he has "blue balls" and answers "yes," as human a moment as any sports bio has ever achieved. Still, Prefontaine was simply too difficult and heroically unheroic to qualify for the standard Biopic of Sports Greatness treatment.
"Kissinger and Nixon"/"Nixon" (1995)
Cable television was nowhere near the level of commercial ubiquity it is now in 1995, which makes it somewhat odd to recall that TNT's "Kissinger and Nixon" airing ten days before the release of Oliver Stone's "Nixon" was viewed as something that could credibly disturb the latter's commercial prospects. The reason had less to do with common sense than with a dubious sense of causality — two years earlier, a TNT biopic about Geronimo had aired before Walter Hill's own version and the latter underperformed, therefore people were wondering if basic cable could ruin movies. But both films were dubious commercial prospects from the start: "Nixon," unlike "JFK," didn't really have any controversial bait to offer the public, yet was still three hours long and beyond hallucinatory. The victor in the long run is probably Stone's movie (which didn't come close to recouping its budget in release, but became something of a cult movie for Stone fans), though the cable film is by all accounts really more about Kissinger — in the role, Ron Silver received excellent notices. Kissinger himself sent in a 42-page list of objections to how he was portrayed; Silver would later become a post-9/11 Republican, making his performance here prescient. As you can see in the clip here, at least he's less inadvertently hilarious than Paul Sorvino's distractingly dead-on, hyper-caricatured Kissinger in "Nixon."
"Tombstone" (1993)/"Wyatt Earp" (1994)
Hardly the first but, to date, the last movies made about the enduring Western figure of Wyatt Earp, neither "Tombstone" nor "Wyatt Earp" made any grand aspirations towards historical accuracy. Both, however, grasped for magisterial grandeur. According to "Tombstone" star Kurt Russell (who claims to have secretly directed the film), before it was recut by the studio it was "a Western 'Godfather.'" "Wyatt Earp," meanwhile, also reached for myth (Jonathan Rosenbaum also noted naked ambitions towards "Godfather" status), but mostly through sheer length (expanded from 191 minutes to 212 in its director's recut). It's best remember as the first moment at which Costner's carefully honed star status began to crash under the sheer weight of his hubris. "Wyatt Earp" emerged only because Costner thought the "Tombstone" screenplay should focus on Earp (which says nothing about his ego, natch) but was far less profitable. In any case, it was an inglorious end to Wyatt Earp's on-screen mythology, one of the great continuities of the genre, which gave us "My Darling Clementine" and other lesser lights still beloved by connoisseurs, like "Doc" and "Gunfight At The OK Corral."
"Liberace"/"Liberace: Behind The Music" (1988)
In a crass display of naked ambition entirely befitting the subject, Liberace's death in 1987 prompted two dueling made-for-TV movies that aired a week apart in 1988. The main difference was that the first was authorized (or, as one "Snicks" writes, "whitewashed"), the second unauthorized. The main issue of contention, of course, was Liberace's sexuality, which remains such a contentious issue (one apparently vigilantly monitored by his estate) that even the Wikipedia entry dances around it, merely noting that he was sued for palimony by chauffeur/alleged live-in boyfriend Scott Thorson, who'd apparently received plastic surgery to look more like the star. Regardless of the truth, Liberace's image (down to a museum he built himself including the world's largest Austrian rhinestone) is certainly gay enough to make him an easy punchline in "Good Night, And Good Luck," where archival footage of him mentioning his heterosexuality conspicuously is an easy audience laugh-getter. The first film danced around the issue; the second, judging by the clip below, made it the main point of focus. (Worth noting: the first film's Liberace was Andy Robinson, the serial killer from "Dirty Harry.")
"Harlow"/"Harlow" (1965)
There were two competing Jean Harlow biopics in 1965: the cheaper one opened May 14 in New York, Paramount's more expensive version on June 23. Paramount had Irving Shulberg's "controversial" (read: lurid) biography to their name and the overqualified services of Hitchcock screenwriter John Michael Hayes ("Rear Window," 1956's "The Man Who Knew Too Much"); the Magna Pictures cheapie had Ginger Rogers' last performance. Neither film was overly commended for accuracy (though at least the cheap version mentioned her likely affair with William Powell, which Paramount scrupulously overlooked) or for an overload of good taste, but perhaps the Paramount version has the edge, if only because it was actually shot on film. The Magna Pictures version was shot on Electronivision (i.e., a glorified '60s TV process) in eight days, and boy does it look it.
[Photos: Naomi Watts in "Mulholland Dr.," Universal Pictures, 2001; "Shutter Island," Paramount Pictures, 2010; "Coco Before Chanel," Sony Classics, 2009; "Coco Chanel & Igor Stravinsky," Sony Classics, 2009; "Bathory," Eurofilm Stúdió, 2008; "The Countess," Empire, 2009; "Capote," Sony Classics, 2005; "Infamous," Warner Independent, 2006; "Prefontaine," Buena Vista, 1997; "Without Limits," Warner Bros., 1998; "Kissinger and Nixon," TNT, 1995; "Nixon," Buena Vista, 1995; "Tombstone," Buena Vista, 1993; "Wyatt Earp," Warner Bros., 1994; "Liberace," ABC, 1988; "Liberace: Behind The Music," CBS, 1988; "Harlow," Magna, 1965; "Harlow," Paramount, 1965]